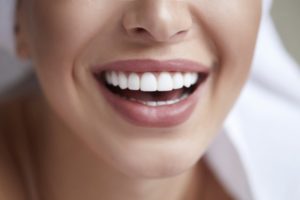 These days, there are more ways than ever before to erase dental flaws and achieve a beautiful smile. Veneers have long been one of the most popular cosmetic treatments available, and they continue to be to this day! This popular service can conceal nearly any imperfection and allow you to redesign the size, shape, and color of one or more teeth. However, to make sure they look natural once in place, a thin layer of enamel will need to be removed from the selected teeth. Your enamel protects the delicate inner layers of your teeth, so should you expect getting veneers to hurt? Here's everything you need to know about tooth sensitivity and veneers in New Lenox.
Is Getting Veneers Painful?
The first step in getting veneers is removing a very thin layer, about the same thickness as a contact lens, from the teeth that will be getting veneers. To make sure that this process doesn't cause you any discomfort, your dentist will almost certainly numb the area. This way, you may feel some pressure as the enamel is removed, it won't be painful.
Then, your temporary veneers will be bonded into place, completely covering the affected area. Later your temporary veneers will be removed and replaced with your permanent veneers. The process of having the veneers cemented into place is a quick and easy step that shouldn't cause any discomfort.
Tooth Sensitivity & Veneers
The process of preparing your teeth and having your veneers placed should be virtually painless. Once your permanent or temporary veneers are in place and the numbing medication in your mouth begins to wear off, it's not unusual to experience some tooth sensitivity. While uncomfortable, this common side effect is nothing to worry about.
Even though the areas of your teeth that were altered are completely covered by the veneers, it's still likely that they will react to cold, hot, sweet, acidic, and spicy foods. Your teeth will need some time to adjust to the presence of the veneers and the bonding agent that holds them in place. Fortunately, most patients report that any sensitivity from veneers is minor, easy to manage from home, and fades within just a few days.
Tips for Managing Sensitive Teeth With Veneers
If you experience sensitive teeth after getting veneers, remember that this is a normal symptom. You can manage your discomfort by:
Limiting or avoiding things that trigger your tooth sensitivity
Continuing to brush and floss daily to keep the area clean and safe
Talking to your dentist about using desensitizing dental products
Taking an over-the-counter pain reliever as instructed on the label
If your sensitive teeth don't clear up within a week, it's time to give your dentist a call. Nonetheless, patients agree that getting veneers is generally an easy and comfortable experience that's well-worth the final results!
About the Practice
Our team here at Atrium Family Dental is dedicated to helping patients in New Lenox and the surrounding communities achieve and maintain optimal oral health for life. We're proud to offer a wide variety of services for smiles of all ages to help your pearly whites look and feel their absolute best. Whether you're interested in replacing your missing teeth with dental implants, want a straighter smile with Invisalign, could benefit from perfecting your look with veneers, or just need a routine checkup, we have everything you and your family need. To learn more, we can be reached online or at (815) 462-9990.