Dentures – New Lenox, IL
Replace Missing Teeth Reliably & Affordably
Losing your natural teeth results in a ton of problems. Of course you don't look good – there's nothing like missing teeth to cause you to look old before your time. Added to that, you could have trouble chewing – depending on the number of teeth you've lost, you might find chewing practically impossible. That brings us to another problem – you're not enjoying steak, corn on the cob, apples, taffy, or any of the other foods that make life worth living…unless you have a blender.
Most people seem to find that the blow to their self-esteem is the worst consequence of missing teeth. They don't smile much, they avoid moving their mouths when they talk, and sometimes they avoid talking at all out of fear that they'll forget and display a gap-toothed smile.
Why Choose Us for Dentures?
Regain Your Biting Strength & Self-Confidence
Implant-Retained Dentures Available
3 Dedicated & Highly Experienced Dentists In-Office
Modern Dental Solutions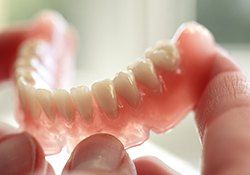 With advancements in dentistry over the past number of decades, no one should have to live with an unsatisfactory smile, and no one should have to run a steak through a blender. There are a number of solutions. Dental implants are always the best alternative. If medical conditions preclude implants (they hardly ever do), partial or full dentures are the second-best solution.
Who's a Good Candidate for Dentures?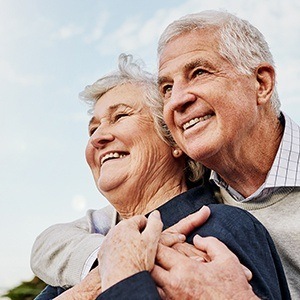 Not having all of your pearly whites is no picnic, and it is no wonder that you are starting to look at your restorative dentistry options. The best type of treatment or procedure varies based on each patient's needs, but those who are missing a substantial amount of their teeth or even all of their teeth might find it advantageous to consider dentures in New Lenox. However, you need to make sure that you are a good candidate for dentures and that they are the right option for you before jumping on board with this solution. Keep reading to learn several things to consider about this treatment process.
Effects of Missing Teeth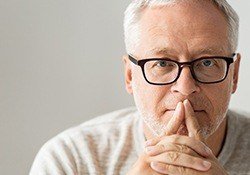 There are a wide variety of reasons why you may have lost some or all of your teeth. According to the American College of Prosthodontists, the most common causes of tooth loss include gingivitis, tooth decay, and oral trauma. Furthermore, certain systemic conditions, typically inherited disorders, can also increase the risk of missing teeth later on.
Whatever the cause is, you should always consider replacing a gap in your smile. Any pearly whites that are missing, other than your wisdom teeth (if you have any), can end up allowing your remaining ones to shift out of place to fill in the space or cause your jawbone to deteriorate. If left untreated, you'll be more likely to experience complications like difficulty eating, trouble speaking, facial sagging, and lower self-esteem.
What Qualifies You for Dentures?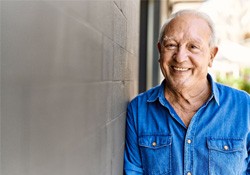 The number of teeth you are missing could be an indicator of whether you would be a candidate for dentures. First, remember that you do not need to have lost all of your teeth to be eligible for this treatment option. You also don't have to be a senior citizen to receive this solution. While there are complete denture sets available, you might also benefit from either partial dentures or implant dentures depending on your case. Whether you lost some or all of your teeth because of an accident or tooth decay, dentures might be right for any patient in need of reconstruction.
Alternative Tooth-Replacement Options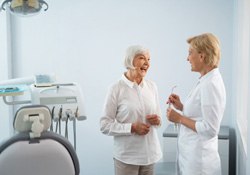 If you have only lost one or two teeth, or you aren't a good candidate for dentures, your New Lenox restorative dentists may recommend other options instead. Here are some of the most popular alternative solutions our team can offer:
Dental bridges – People who are missing one or several teeth in a row may consider a dental bridge. You'll require healthy teeth adjacent to the gap to support this restoration, and you can expect your new smile to go as far as 10 to 15 years with proper care.
Dental implants – If you're interested in a more comprehensive and longer-lasting solution, then you'll want to ask your dentist about dental implants. These titanium posts will rebuild your missing teeth from the roots up, provide superior stability, and can last several decades to a lifetime with minimal dental care!
Learn More About Dental Bridges
How Dentures are Made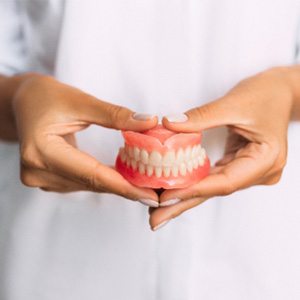 When deciding to get dentures in New Lennox, you may wonder how the prosthetics are made. After all, it's only fair to know the origins of your new teeth. Plus, having that information would help you appreciate your restored smile. Luckily enough, Atrium Family Dental of New Lenox is here to help: Below is a summary of what goes into making our practice's dentures. Please read it over and learn the "magic" behind these restorations.
What are Dentures Made Of?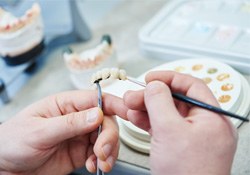 Ultimately, dentures comprise two principal parts – a base and a set of artificial teeth. Neither one can work properly without the other. As evidence, consider these detailed descriptions:
Denture Base - A denture's base is the core support of its artificial teeth. Technicians can make one from various materials, whether acrylic, nylon, porcelain, resin, or metal. That said, the employed substances differ depending on the type of denture.
Artificial Teeth - Artificial teeth are dentures' tooth-replacing portions. Made from resin or porcelain, they look highly natural and lifelike. However, their composition can affect their longevity, looks, etc.
The Denture Creation Process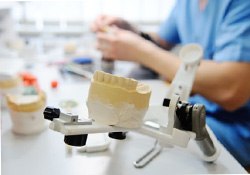 Remember, a denture is custom-made for the patient's mouth. Each one thus requires a multi-step crafting process. In most cases, that craftwork entails the following actions:
Step 1 The dentist will take a dental impression of your upper and lower gums. The resulting model will then be sent to a lab that makes the dentures.
Step 2 Following the necessary work, the lab will send wax dentures to the dentist for a fitting. The dentist, in turn, will return the restorations to the dental lab to complete the crafting process if approved.
Step 3 Once back at the lab, the dentures' wax portions will be eliminated. The altered prosthetics will then be placed in a flask housed in hot water to melt dentures.
Step 4 Holes are made in the artificial teeth so they can attach to the base. A liquid separator is also added to the plaster layer to prevent the acrylic from sticking. The acrylic itself is then injected into the flask to replace the wax.
Step 5 The plaster is removed with special tools to reveal the denture. From there, the technician will place the prosthetics in an ultrasonic bath to remove leftover materials.
Step 6 The lab will cut excess acrylic from the denture, and the restoration will be polished.
Step 7 The patient will return to the office for fitting and final adjustments.
Adjusting to Your New Dentures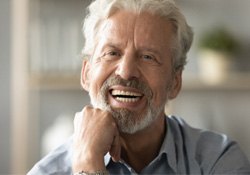 You'll likely feel some discomfort when you first wear dentures. That much is normal – you aren't used to having the appliance in your mouth. With time, though, you'll adjust; the dentures will even start to feel similar to natural teeth.
Of course, it's possible to speed up the adjustment process. You could make things easier by eating soft foods, exercising your facial muscles, using adhesives, etc. Whatever your method, just make sure to note whether your discomfort persists. If it does, you should contact your dentist for potentially-necessary denture adjustments.
How Dentures Work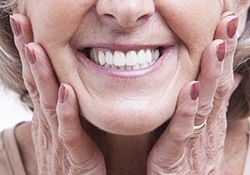 You probably know that dentures are just artificial teeth that replace the teeth that you're missing. They fit over your jawbone's ridge, and when they're fitted properly, they'll work nearly as well as real teeth.
Sometimes, dentures are hard to wear in the beginning. This is perfectly normal – your gums are shrinking, and you're not going to adapt to them overnight. That's why your dentist will usually provide you with a temporary set of dentures that will help you to get over the transition period. They'll look good, and even though they may not feel exactly right, you'll be able to get used to the feel of dentures in your mouth.
Your permanent dentures will fit and feel much better. You may need a couple of visits at Atrium Family Dental of New Lenox to make sure that your dentures fit properly, but once they are fitted, you'll find that they'll perform nearly as well as natural teeth. You'll be able to smile again and throw away your blender!
Types of Dentures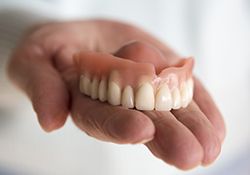 Up till now, we've talked about ordinary dentures. Other types of dentures can be created to work in conjunction with other options. As an example, if you're thinking about implants, implant-retained dentures can be an option. These are a great alternative to bridgework for people who are only missing a few teeth. They're fitted on your remaining teeth and anchored by means of implants. The benefit to this type of denture is that it feels much more secure and natural.
Don't discount a bridge or partial denture either. The benefit to this type of denture is that it's not all that expensive and it will fill in the gaps where your teeth are missing. It's a good solution if your teeth are failing and you're anticipating that you'll need full dentures or implants.
The Benefits of Dentures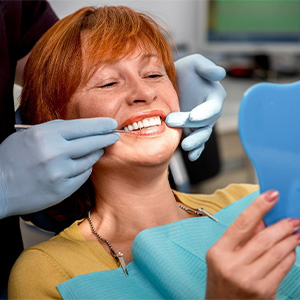 If you're missing any teeth, you know firsthand the challenges involved. Eating and speaking get harder, and even smiling becomes difficult or embarrassing. That said, the benefits of dentures overcome those and similar issues. The result is that the restorations greatly improve your quality of life! If you'd like, our office will happily tell you more about these perks. All you need to do is keep reading or call us directly.
Psychological Benefits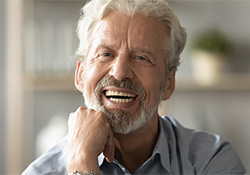 People usually don't react well to tooth loss. After all, the condition deprives you of pearly whites you've likely had for years. This fact means it often diminishes your body image and self-esteem. From there, you might withdraw from social life and develop sadness or depression.
Still, dentures can help you out of this funk. By giving you new teeth to show off, they often boost confidence and lower anxiety. Such attitude shifts, in turn, allow you to feel at ease regarding your looks, speech, and chewing ability.
Clearer Enunciation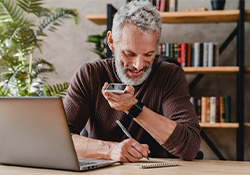 As referenced earlier, speaking is difficult without teeth. Your lips and tongue rely on pearly whites to position themselves. Without them, some words are tough to say clearly.
Thankfully, though, dentures are substitute teeth. They give your tongue and lips the necessary support for speech. Granted, you'll have to adjust to speaking with the appliance. Once you've done so, however, talking with others will come naturally.
Improves Nutrition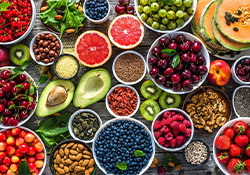 Naturally enough, meals aren't easy when you don't have teeth. You require chompers to chew your food. Even worse, many healthy items – veggies and fruits, lean proteins, etc. – have tough textures. If you cut them out of your diet due to chewing difficulty, you'll likely suffer from malnutrition or indigestion.
Dentures, as it turns out, solve the food issue handily. Their materials allow them to chew food almost as well as natural teeth. As such, they'll let you widen your dietary options and get crucial vitamins and minerals.
Preserves Oral Health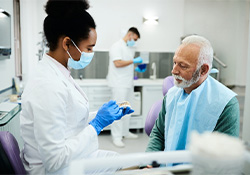 Often enough, people consider tooth loss an effect of oral damage. In truth, though, the condition itself causes further harm to your mouth. Smile gaps, you see, give harmful bacteria space to breed. Left unchecked, the spaces will also make your surrounding teeth tilt and fall out.
As you might expect, then, dentures can protect your mouth by "filling" the gaps. Without those damp spaces, nasty germs will have fewer places to grow. Your teeth will also be safe from tilting and falling.
Expands Opportunities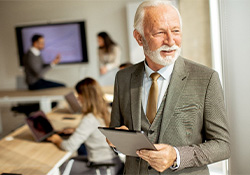 If you don't already know, your smile is vital to first impressions. It's something people notice about you right away, meaning it strongly influences others' feelings. Therefore, you're likelier to mingle well with friends or family if you have a pretty and full grin.
Needless to say, dentures give you just such a smile. In fact, their realistic looks can improve social relationships and even boost your job prospects. Should these things happen, you could pay for the treatment with the money from a fantastic promotion.
The Procedure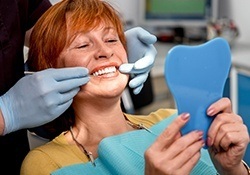 When you come to see us to have dentures created, we'll take a mold of your teeth and send it off to the lab that will build your dentures. Then, once they're made, we'll fit them and re-line them to compensate for the shrinking in your gums. A good denture will always fit properly and work nearly as well as your natural teeth.
Understanding the Cost of Dentures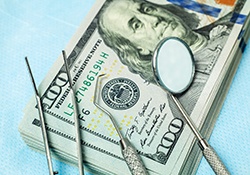 Dentures have been used for generations to treat significant tooth loss. Although you know they are a convenient and effective solution, it's normal to be concerned about the cost of dentures in New Lenox, but there isn't any reason to worry. We'll provide you with a personalized estimate and help you find the options you need to restore your smile without draining your wallet.
Factors that Affect the Cost of Dentures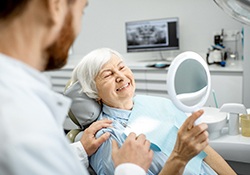 There isn't a set fee for dentures in New Lenox because every patient's needs are unique. Several factors will influence the amount you'll pay, such as if you need any prep-work, like tooth extractions or periodontal therapy. The materials used to create your base and replacement teeth will also affect the cost. Although there are budget materials, they won't have the same longevity or durability. It's best to consider quality over the price tag when choosing materials for your denture. The type of denture you choose will also affect the price, such as if you need a partial or an implant-supported option.
Are Implant Dentures More Expensive?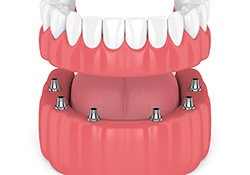 It's true you'll pay more for implant dentures than the traditional treatment, but they are the most cost-effective. Not only will you enjoy a nearly perfect replica of your real teeth but also a treatment that can last for decades with the right aftercare. You won't need to worry about paying for new ones to save money down the road. Without having to get a replacement every 5 to 7 years, your implant dentures can potentially pay for themselves over time.
Does Dental Insurance Cover Dentures?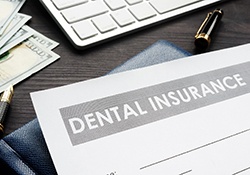 Your dental insurance won't cover the entire cost of dentures, but you can use your policy to offset the amount you need to pay. Every policy differs, but most plans offer 20% to 80% coverage for dentures after reaching your yearly deductible. Your denture dentist in New Lenox will maximize your dental insurance to lower the amount you pay out-of-pocket.
Other Options for Making Dentures Affordable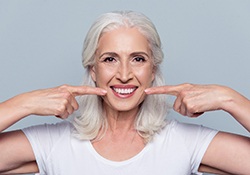 If there's any remaining balance after using your dental insurance, or you don't have coverage, we have several solutions to make your new smile affordable.
Traditional Payment: Our office accepts all forms of traditional payments, including cash, check, and more major credit cards.
Smile Saver Club: Our Smile Saver Club provides discounted rates for common services. By paying a low annual fee, you can enjoy reduced fees for many treatments, like dentures.
Financing: Our office works with third-party financing. You will be given the funds you need after your credit's approval. You'll repay the amount using a plan that accommodates your budget.
We believe everyone deserves to have a beautiful smile. We will work with you to replace your missing teeth without costing you an arm and leg. Contact our office today to schedule your consultation for an estimate.
Dentures Aftercare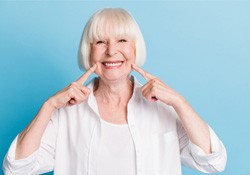 Dentures can transform the appearance and function of your smile as well as your quality of life! However, even if you don't have any remaining natural teeth, it's still important that you see a dentist regularly. This way, they can continue to monitor any existing teeth and gum tissue. That will also keep an eye out for abnormalities that could indicate oral cancer. When you have dentures, it is very difficult to notice these changes on your own. Early detection from your dentist is key to making a full recovery!
Removeable Dentures
Remove After Eating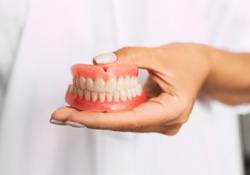 After all of your meals, remove and rinse your dentures. This can help to prevent buildups of food debris and plaque. When rinsing your dentures, don't use hot water. Heat can warp the denture material and cause them not to fit properly.
Clean Your Restoration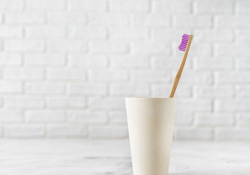 To clean your dentures, remove them first. Use a soft-bristled toothbrush and a small amount of hand soap, mild dish soap, or denture cleaner to gently brush your dentures. Don't use regular toothpaste because dentures are not made to stand up to abrasive materials. If you aren't going to put your dentures back in right away, place them in a container of water or denture-cleansing solution so they don't dry out and lose their shape. Remember to thoroughly rinse your dentures before putting them back in your mouth.
Keep Your Dentures Safe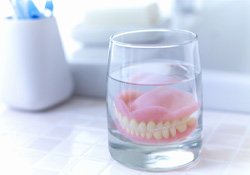 You may want to place a towel underneath your dentures just in case you accidentally drop them. This will reduce the probability of your dentures becoming damaged. Also – keep your dentures out of reach of small children and pets.
Remove When You Sleep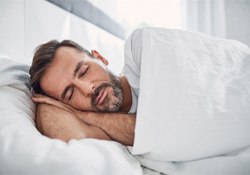 You should take your dentures out before you go to sleep at night. Wearing dentures restricts the circulation in your gums and can lead to soft tissue irritation. Sleeping with dentures has also been associated with a higher risk of pneumonia as well as higher levels of gum and tongue plaque. Keep your dentures in a denture-soaking solution overnight. If you allow your dentures to dry, they can permanently lose their shape.
Notice Changes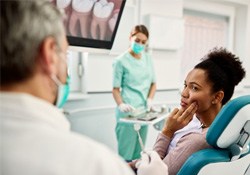 Keep an eye out for changes so you can address them with your dentist. This includes mouth sores, gum irritation, and signs of infection. If your dentures become damaged in any way, don't try to repair them on your own. You may end up accidentally damaging them further. Instead, give your dentist a call. For dentures that are shifting, clicking, or showing other signs of not fitting properly, give us a call. Your denture may need to be relined or replaced.
All-on-4 Dentures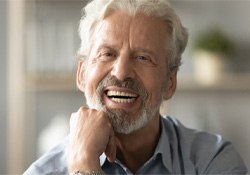 If you have all-on-4 dentures, the process looks a little bit different. You should brush your dentures twice daily using a soft-bristled manual or electric toothbrush and non-abrasive toothpaste. Stay away from toothpaste containing baking soda or stain-removing agents. Floss your replacement teeth every day. Floss threaders are available to help you floss underneath your denture. You may also want to invest in a water flosser to keep your restoration and implants clean. To prevent the growth of tartar, rinse your mouth with an antibacterial mouthwash daily.
Frequently Asked Questions About Dentures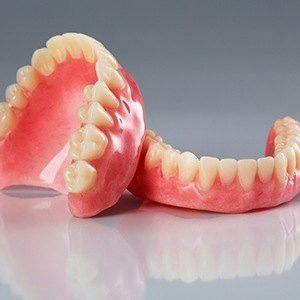 Rebuilding a mouthful of teeth with dentures can be an intimidating process – thankfully, our team at Atrium Family Dental of New Lenox is always here to address your questions and concerns. Please take a look at some of the most common FAQs we receive below to learn more. If you can't find the information you want, you can contact us directly here in New Lenox, IL for further insight about this reliable reconstructive service.
Are There Different Types of Dentures?
Yes. You can get dentures that will replace all of your teeth or just some of them. The ones that replace all of your teeth are "complete" dentures. Dentures that replace only some of your teeth are "partial" dentures.
Do Dentures Slip?
This is one of the most common questions we receive, and its origin goes way back. You probably heard horror stories from your grandparents about embarrassing moments caused by slipping dentures. The fact is, though, that today's dentures fit very well. The chances of experiencing any slipping and sliding is slim to none.
Are Dentures Expensive?
It pretty much depends on what you expect. Dentures are not generally expensive, but the more you want, the more you will pay. If you want a set of dentures that looks good and works well, chances are you won't be all that much out of pocket. However, if you want a set of dentures that look exactly like your natural teeth, you might end up paying a bit more.
Are Dentures Hard to Care For?
Not in the least! In fact, if you make sure not to drop them and you clean them regularly, you can expect your dentures to last you for a very long time.
Can I Use Toothpaste on My Dentures?
It's not a good idea. Toothpaste is generally meant to be used on natural teeth and could harm your dentures. You should use a cleanser that is specially formulated for your dentures.
Will It Hurt to Get Dentures?
As with nearly every dental treatment or procedure, many patients are concerned if it will hurt. The good news is that our team at Atrium Family Dental takes proactive measures to keep you comfortable throughout the entire process. For example, if you need to have a few teeth extracted first, then we will thoroughly numb your mouth and have you take your prescribed pain medication as directed to keep you comfortable. As for the dentures themselves, it is normal to experience some soreness when you first wear them. Even then, the discomfort is only temporary.
Is It Hard to Talk with Dentures?
It's common for patients to experience a bit of a learning curve when they first get dentures. Fortunately, there are several ways you can speed up this process, starting with reading out loud. You can also practice with someone you trust, making sure to repeat the more difficult words you come across. Above everything else, make sure to have patience with yourself. Although it may take some time, the more you practice, the faster the adjustment process goes.
What Can't You Eat with Dentures?
If you were struggling with moderate to severe tooth loss, then you'll be happy to know that dentures can open your diet significantly. Of course, there are still a few foods that you should avoid, including gummy candies, peanut brittle, and raw nuts. More crunchy foods, like apples and celery, should be cut into very small pieces to reduce the amount of chewing power needed to break them down. In short, we recommend sticking to softer, nutrient-dense foods over hard, sugary ones.
Why Do My Dentures Smell?
If your dentures smell bad, it may be because bacteria have become trapped in the prosthetic. To prevent that from happening, we recommend implementing a solid oral hygiene regimen, which includes cleaning your dentures daily with a soft-bristled toothbrush and specialized cleaner. It's also important that you soak your dentures in a disinfectant each evening to give them a deeper clean.
Note: There are some cases where the smell may seem like it's stemming from your dentures, but it's actually stemming from tooth decay or gum disease. That's why it's so important that you visit us every six months for a checkup and cleaning (or sooner if any abnormal dental symptoms arise).
Can I Sleep with My Dentures?
You can; however, patients are typically encouraged to take them out at night. This serves two important purposes. The first is that it gives your gums a chance to rest, allowing proper blood flow. The second we mentioned above: you can soak your dentures in a special cleaner overnight to keep them in pristine condition. So, for the sake of your oral health and the lifespan of your prosthetic, don't sleep with your dentures in.
The Final Word
Well, that's about it. If you have any other questions about dentures, you can feel free to get in touch with Atrium Family Dental of New Lenox in New Lenox, IL. Dentures do not have to be scary, so be sure to call us with your questions.