Sleep Apnea Therapy – New Lenox
Rest Easier, Live Better
Do you regularly feel fatigued and exhausted in the mornings at work, even though you went to bed right on time? Does your spouse or family regularly complain about your loud snoring? These symptoms can indicate the presence of a dangerous health condition that shouldn't be left to its own devices: sleep apnea.
Whether you've already received a sleep apnea diagnosis or still need to undergo screenings to determine your risk, the dentists at Atrium Family Dental of New Lenox may be able to provide sleep apnea therapy right here in New Lenox, IL. We want to help you reclaim a better quality of life through our efforts! Contact us today to schedule a visit, or if you have any questions.
Why Choose Us for Sleep Apnea Therapy?
Customized, Comfortable Oral Appliance Therapy – Throw Out The CPAP
3 Highly Experienced Dentists In-Office
Extended Morning & Evening Hours
What is Sleep Apnea?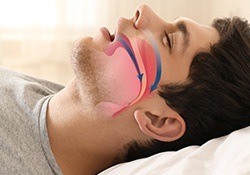 While there are multiple types of sleep apnea, the most common by far is Obstructive Sleep Apnea (OSA), which is what our team is capable of treating. OSA occurs when a patient's airway is partially or fully blocked by oral tissue as they rest at night, resulting in their breathing becoming dangerously restricted. The brain is forced to awaken the patient whenever this occurs, rousing them out of the deep sleep they need dozens or even hundreds of times on a daily basis. In addition to the ones listed above, here are some other common symptoms that could indicate the presence of untreated sleep apnea:
Waking up in the morning with a sore throat and/or chronic headaches
Reduced memory and concentration
Regularly waking up with snorts or gasps
Visiting the bathroom frequently throughout the night
We urge patients who experience any of these indications on a regular basis to visit their physician or a sleep specialist for diagnostic assistance. If you already have a diagnosis of mild to moderate OSA in hand, then it's time to visit Atrium Family Dental of New Lenox.
How Can A Dentist Treat Sleep Apnea?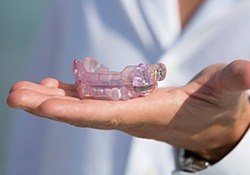 Traditionally, sleep apnea has always been addressed with a CPAP machine, which stands for Continuous Positive Airway Pressure. The machine forces air into the patient's lungs through a facial mask over the course of each night. While sleep apnea symptoms are definitely kept under control through consistent CPAP use, many patients forego treatment altogether because they can't handle the noises and discomfort associated with the machinery. Thankfully, oral appliance therapy is a worthwhile alternative that deserves exploration.
Our dentists will design a custom-made appliance that adjusts the patient's jaw and/or tongue comfortably – just enough to prevent airway collapse. This will help you breathe easier throughout the night and wake up feeling rested for the day ahead at last.