Metal-Free Restorations — New Haven, IL
A Natural Looking Tooth That's Healthy for You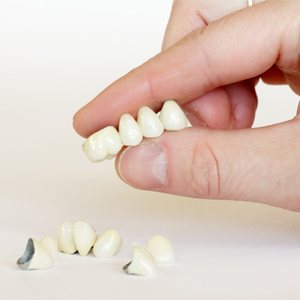 When you have a tooth that is damaged because of severe decay or injury, a strong and beautiful restoration will preserve the tooth and restore healthy form and function. The dentist must consider what is best for your oral health as well as the look of your smile. That's why metal-free restorations that are made of zirconia are preferable. These restorations are just as strong as their metal counterparts, but they look significantly more natural. If you have teeth that are in need of repair, consider metal-free restorations in New Lenox.
Metal-Free Dental Crowns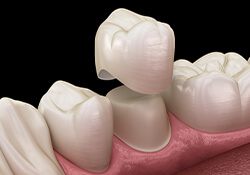 Extraction is not always the solution if a tooth is badly damaged or decayed. When treated appropriately, the remaining healthy structure can be preserved and protected with a dental crown that restores form and function. A crown is also the last step in completing root canal therapy or the placement of a single dental implant.
For the best outcome, your cosmetic dentist in New Lenox chooses dental crowns made of zirconia, which is not a metal, but in fact is a type of crystal. Zirconia is so strong that it is virtually indestructible. In addition, zirconia is biocompatible and is used in many other medical applications such as artificial joints.
Benefits of a Zirconia Crown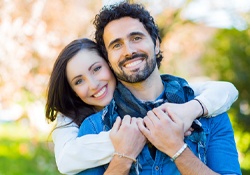 Zirconia comes in several shades, so your new restoration will blend seamlessly with the natural color of your smile. Other advantages are:
Long Lasting Strength. Zirconia crowns last longer that silver, gold or porcelain fused to metal crowns.
A crown made of zirconia looks like a natural tooth.
Minimal Prep. Less tooth preparation is needed for a zirconia crown, so more of the original tooth is preserved. This is beneficial if the crown ever needs to be removed.
How Are Metal-Free Restorations Placed?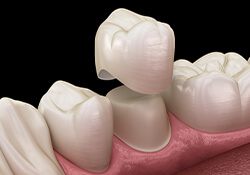 To place a zirconia dental crown, a slim layer of enamel must be gently shaved off of your tooth. This step is done so that the new crown fits evenly between adjacent teeth and does not interfere with opposing teeth when you bite down. You'll wear a temporary acrylic crown while our cosmetic dental lab crafts the permanent restoration.
In a couple of weeks, the zirconia crown is sent to Atrium Family Dental of New Lenox. The dentist will check the fit and aesthetics of the crown. Then, your metal-free restoration is bonded into place.
Continue practicing good oral hygiene and schedule regular dental checkups. This way, your new dental crown will give you years of performance and smiles.