Children's Dentistry – New Lenox, IL
Providing Quality Care for Our Youngest Patients
Do you find it difficult to get your kids excited about oral hygiene? You're not alone. Most parents struggle when it comes to making sure their child brushes and flosses their teeth each morning and every night before bed. It's no surprise that kids would rather be playing than standing in front of a mirror doing something they're being told to do. As parents, you know the importance of good oral hygiene, but maybe your child doesn't. That's where Atrium Family Dental of New Lenox comes in. Through our children's dentistry services, we offer a kid-friendly approach to all we do. You children's dentist in New Lenox will provide kind, compassionate care, and ensure your child's teeth and gums remain free from cavities, tooth decay, and gum disease. To schedule an appointment, call our office today!
Your Child's First Visit to the Dentist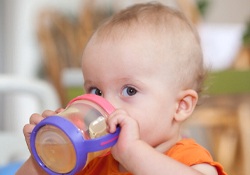 If you're asking, "When should I bring my child in for their first dental visit," the answer is one of two options: either by the time their first tooth erupts or when they turn a year old. This initial visit will allow one of our expert dentists to examine your child's mouth to determine if there might be any causes for concern. The likeliness that there will be any issues are slim but should any present themselves, we can swiftly take care of any problems.
The first dental appointment isn't just for examining your child's teeth and gums, it's a great opportunity to establish a relationship between the youngest member of your family and our dentists and staff. We don't just enjoy seeing your smiling face when you walk through the door, we want to also make your children feel welcome and cared for each time they visit.
Our dentists understand that these visits can be scary, which is why we will do everything we can to limit the fear and anxiety your child might feel. By showing and explaining how different tools and equipment work and sharing fun ways to care for their teeth and gums, we strive to eliminate any barriers or fears that might exist.
Tips for Practicing Good Oral Hygiene at Home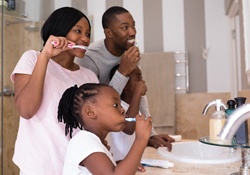 Practicing good oral hygiene habits at home is crucial, but it also takes a partnership with our dentists to ensure they work. If you're looking for a few ways to help your child get excited about their oral health, here are a few tips you can use:
Let them choose their own toothbrush and toothpaste: If Batman or Peppa Pig thinks it's cool to brush your teeth, guess what? Your child will think so, too! Take them to the drug store and let them pick out their favorite toothbrush and toothpaste. Whether it's a cartoon or comic book characters that capture their attention, it's sure to get them excited about brushing.
Brush and floss together: As the parent, you are a role model for your kids. Whatever you do, they'll want to do as well, and that means, if you take care of your teeth, they'll want to do the same. To ensure they brush and floss their teeth correctly, make your morning and evening oral hygiene routine a family affair!
Make it a dance party: We know it's important to brush for a full two minutes, so to help your child with this, turn on your favorite song and set a timer. Then, start dancing and brushing! Not only will you and your kids have cleaner teeth, but you'll burn a few calories and have fun doing it!
Offer a Reward: Kids love rewards. Whether it's stickers, food, promises of going to the park, or pretty much anything else, you can be confident that if you offer a reward, they'll make sure to brush and floss their teeth. For example, if they floss their teeth every day for a full week, take them to the park.
Kid-Friendly Services We Offer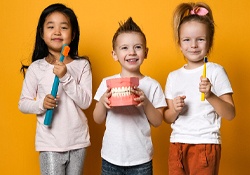 Dental Sealants
Mouthguards
Fluoride Treatment
Emergency Dentistry
TMJ/TMD Therapy