TMJ / TMD Therapy – New Lenox
Get Rid of Chronic Jaw Pain At Last
If you place your fingertips on the skin right below the ear and open your mouth, you'll be able to feel something moving underneath the surface. These are our temporomandibular joints (the TMJ), which have the important responsibility of connecting the jawbone to the skull. Without them, you wouldn't be able to chew food, speak clearly, or even yawn when you're tired, which is why dysfunction in this bodily area is a big problem. At Atrium Family Dental of New Lenox, our experienced dentists can address TMJ disorders with focused therapy and bring back lasting harmony to your oral structures. To schedule a consultation, please contact us today in Lenox, IL.
Why Choose Us for TMJ/TMD Therapy?
Customized Oral Appliances For Long-Term Relief
Advanced Digital Technology & Unparalleled Diagnostic Precision
Modern, Inviting Office Space
Diagnosis & Treatment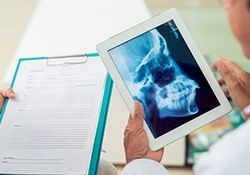 TMJ disorder is very complex, and no two cases manifest in exactly the same way. There are some common symptoms that patients should be on the lookout for in their daily lives, including the following:
Strong, focused pain that feels like an earache
Chronic discomfort in the jawbone, the neck, the face, or the shoulders
Constant clicking and popping sounds that come from the jaw joints
Struggling to open and close the mouth properly and/or chew food without difficulty
During your initial visit, our team will thoroughly review your TMJ, your individual teeth, and the way your bite fits together to gauge the severity of your condition. Once we understand your specific circumstances better, personalized therapy can follow.
Occlusal Adjustments / Equilibration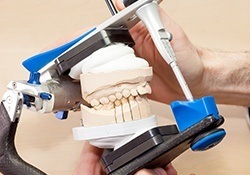 If your specific case of TMJ disorder is related to a misaligned bite, occlusal adjustment (also referred to as equilibration) may be able to permanently correct the issue. We will determine where there's an excessive amount of pressure and readjust the biting surfaces of certain teeth to more evenly spread it throughout the mouth, alleviating chronic strain and helping fatigued facial muscles relax at last.
Occlusal Splints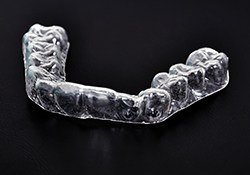 A customized occlusal splint (more commonly referred to as a mouthguard) is another popular option for TMJ treatment. The device will reposition the patient's resting jaw and also help prevent bruxism (teeth grinding), which can exacerbate painful symptoms over time. Many patients discover that the diligent use of an oral splint can actually "reprogram" their smile over time, leading to long-term relief.