All-on-4 Dental Implants – New Lenox, IL
Rebuild A Strong, Confident Smile From Scratch
Patients who are missing an entire jaw of top of bottom teeth may feel that their only affordable option is dentures. While dentures are great for restoring the mouth's functionality and aesthetics, they still prove to be a hassle and can cause discomfort. With All-on-4 dental implants, only four dental implants are needed to permanently attach a full arch of dentures. Atrium Family Dental of New Lenox in New Lenox is proud to offer this procedure to patients who already have dentures and want a more secure solution and to patients who may need dentures or a full set of teeth.
Why Choose Atrium Family Dental of New Lenox for All-on-4?
Dental Implants Placed In-House
Replace an Entire Arch of Teeth at Once
Improve Your Biting Force, Speech, and More
The All-on-4 Procedure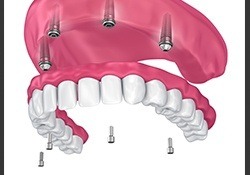 If you are interested in All-on-4 dental implants, you will first need to schedule a consultation with our dentists in New Lenox. During this dental appointment, they will determine if you are a good candidate for implants. Patients must have an adequate amount of bone mass in the jaw for the implants to stay put. If the patient does not have enough bone mass, they can opt for a bone graft to help. Once given the okay, the procedure is quite simple. With minor surgery and sedation, your dentist will surgically place the titanium screw that acts as a tooth root into your jawbone. Four implants are placed on either your top or bottom jaw (or both), depending on where you are missing the arch of teeth. The dental implants will heal and fuse to the living bone, creating a strong and long-lasting foundation for your new teeth. Your dentist will then attach a temporary set of teeth for you to wear while your jawbone heals. Once it has healed, your permanent teeth are installed.
The Benefits of All-on-4 Dental Implants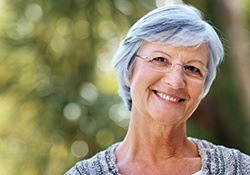 The biggest benefit of All-on-4 implants is the secure feel and comfort that is not present with traditional dentures. Patients can confidently smile and eat with All-on-4 implants, never feeling worried that their teeth will fall out at the wrong time. Another benefit includes the prevention of future loss of bone mass in the jaw. The dental implants act as tooth roots, and as a result, they encourage the bone mass in the jaw to continue growing. This helps your face maintain its youthful shape and prevents it from drooping. All-on-4 dental implants are also very long lasting, which all patients say is a great benefit. Once your implants are placed, you won't need to worry about replacing them if you follow proper aftercare instructions. Lastly, patients will enjoy significant improvement to their appearance, easy care, and an overall enhanced quality of life. Restore not only your smile, but your confidence with help from All-on-4 dental implants!
Interested in Improving Your Smile?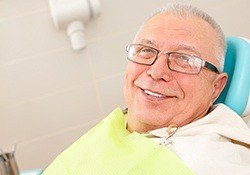 If you are missing a single arch of teeth or an entire mouthful, or if currently have dentures and are looking for a more secure and comfortable restorative option, contact Atrium Family Dental of New Lenox to find out if All-on-4 dental implants are right for you. Our New Lenox dentists will determine if you are the right candidate during a consultation and help you achieve your new smile as soon as possible.