Dental Bridges – New Lenox, IL
Bridge The Gap Left by Lost Teeth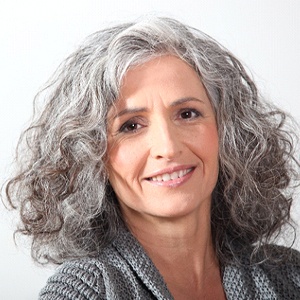 Are you missing some of your teeth? This is a common dental issue, and fortunately, there are a number of restorative dentistry options that could help you with this problem. At Atrium Family Dental of New Lenox, one of the most popular ways that patients restore the appearance and function of their smile is with a dental bridge. To learn more about how you can bridge the gap left by lost teeth, give us a call!
Why Choose Atrium Family Dental of New Lenox for Dental Bridges?
Dental Implant Bridges Available
All-Ceramic Materials for Outstanding Confidence
Highly Experienced Dentists with Restorative Expertise
What is a Dental Bridge?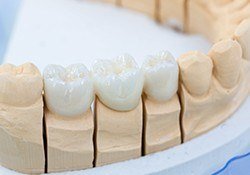 A dental bridge is a type of restoration that's used to replace consecutive missing teeth. This can be anywhere from one tooth to four teeth in a row. The bridge is compromised of two crowns and a number of replacement teeth known as "pontics." The crowns are anchored on the adjacent teeth or implants, depending on the type of bridge you get. Bridges can be made out of a variety of different materials, but porcelain is usually the best option for a strong and natural-looking smile.
Types of Dental Bridges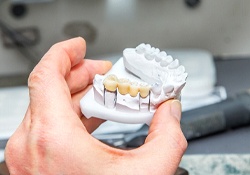 If your dentist determines that you make a good candidate for a dental bridge, there are two different types you could end up with. Here is what each one entails:
Traditional Bridge
If you still have healthy teeth on each side of the gap that needs to be filled in, a traditional bridge is ideal. The teeth that support crowns are known at abutment "teeth," and they need to be altered slightly for the bridge to fit properly. This type of restoration can be placed in just a few visits and are typically less pricy than their implant alternative.
Implant Bridge
Dental implant bridges can be used when there are three or more missing teeth in a row. Instead of being placed over abutment teeth, the crowns are placed on titanium dental implants that will merge with the jawbone and act as artificial tooth roots. Implant bridges last longer than traditional bridges and help to prevent jawbone deterioration in the future as a result of tooth loss.
The Benefits of Dental Bridges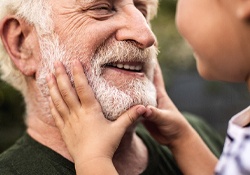 A traditional dental bridge is a relatively simple and cost-effective option for replacing missing teeth. In addition to providing strength and stability for chewing and speaking, they help to maintain the shape of your face. They also keep your natural teeth from shifting out of place and causing misalignment issues later on.
Dental Bridges FAQs
If you have one or more missing teeth, you know from experience how much it can affect your appearance and overall quality of life. Luckily, you don't have to live with gaps in your smile forever. Dental bridges in New Lenox are an excellent tooth-replacement solution that can help you enjoy a fully functioning grin once again! Of course, it's completely normal to have a few concerns about the process before committing to it. To help you out, our team at Atrium Family Dental of New Lenox has decided to answer some frequently asked questions below.
Can You Take a Dental Bridge Out?
No! Once your dental bridge is in place, it must stay in your mouth until it needs to be replaced. Patients should never be able to take out their restoration – only a licensed dental professional can do that. You may have heard some healthcare providers refer to partial dentures as "removable bridges". However, that's not accurate. Even though partials are similar to bridges, they can be removed by a patient at any time while bridges cannot.
Is Getting a Dental Bridge Painful?
Before your procedure, our team at Atrium Family Dental of New Lenox will numb the teeth that'll be worked on to ensure you're completely comfortable. In most cases, all that's needed is a topical anesthetic. However, you can ask for dental sedation if you're feeling severely nervous or anxious. After your dental bridge is placed, you can expect to feel mild sensitivity for the next few days. The good news is you can easily manage your discomfort by taking over-the-counter pain medication as needed. Rest assured – we'll take the time to explain how you can minimize your discomfort after your dental implant placement surgery.
How Many Teeth Can a Dental Bridge Replace?
A dental bridge can replace anywhere from one to four missing consecutive teeth. Of course, this restoration is often used to replace one or two teeth. It's worth noting that the longer the bridge extends, the less stable it may become. That's why it's a bit risky to use a dental bridge to replace three or more teeth. In that case, it may be better to explore other options like implant bridges.
How Do I Clean Under My Dental Bridge?
It's incredibly important that you take the time to clean underneath your dental bridge properly. If you fail to do so, harmful oral bacteria could accumulate and cause your restoration to fail. There are a few tools you can use to clean underneath a dental bridge, such as:
Dental floss. Loop the string through a threader and slide the pointed end underneath the bridge and out the other side. Then, slide the floss back and forth and wrap it around each of the supporting teeth to clean beneath the gums.
An interdental brush. This tool has puffy bristles attached to a wire. Since they have long handles, it's easy to slide them in and out of the space underneath your bridge.
A water flosser. These devices release a steady stream of pressurized water which can be aimed underneath your restoration. There are many types of water flossers to choose from, meaning you're guaranteed to find one with a pressure level and tip design that works best for you.