Smile Makeovers – New Lenox
Transform Your Smile & Your Life!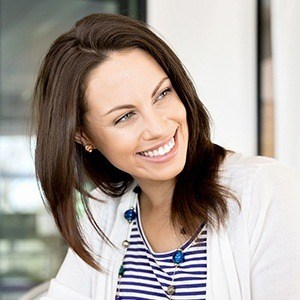 Makeovers are very much at the forefront today – all you have to do is turn on your television, and you'll find shows that are specifically dedicated to helping you lose weight, improve your fashion sense, and even become a model. Talk shows also often feature makeover segments with makeup, hairstyling, and clothing that can transform even the most unappealing person into someone you'd definitely look twice at if you passed them on the street. Realistically, a smile makeover isn't going to transform you into movie star material, but if your teeth are generally stable and straight and your jawbone is healthy, a cosmetic dentist can give you a smile makeover that will make you feel better about yourself.
Why Choose Us for Smile Makeovers?
Years of Proven Cosmetic Expertise & Training
All-Ceramic Materials For Outstanding Aesthetics
Painstakingly Personalized Treatment Plans – Your Goals Come First!
What is a Smile Makeover?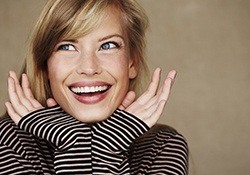 A smile makeover is a procedure that gives you a brighter, better smile. Depending on the condition of your teeth, your makeover could include treatments like whitening, bonding, implants, or veneers.
A smile makeover is different from a reconstruction, although some aspects of a makeover do include reconstructive dentistry. The term "reconstruction," though, is usually used to define a procedure that is required to restore function. A makeover may do that, but it will be incidental to the main purpose of giving you the smile you've always dreamed of.
The difference between a makeover and a reconstruction, then, is that when it comes to reconstruction, you don't have a whole lot of choice – you have to have a certain treatment done if you're going to be able to use your teeth properly. A smile makeover is your choice. What do you want to have done?
Who Benefits?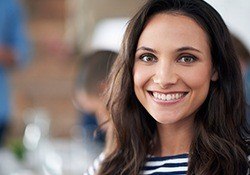 Anyone who has something about their smile that is displeasing is a good candidate for a smile makeover. Some of the conditions that a makeover can help to fix include:
Missing Teeth – Even one missing tooth can ruin your smile. Solutions include bridges, implants, or partial dentures.
Discolored Teeth – If your teeth are dull or dingy, you could benefit from a whitening treatment. If your teeth have become permanently darkened, perhaps due to illness, porcelain veneers can give you a dazzling smile.
Aging Face – As we age, we can lose bone volume, causing the face to sag. If you're not aging as gracefully as you'd like, you could benefit from orthodontic treatments or maxillofacial surgery.
Poor Alignment and Spacing – Gapped, overlapping, or crooked teeth can be straightened and aligned with orthodontic procedures. At Atrium Family Dental, we can also provide you with Invisalign® clear aligners.
With modern dental procedures, cosmetic dentists can correct or at least improve practically any dental problem that is adversely affecting your procedure.
How Long Does a Smile Makeover Last?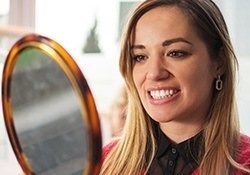 There's no easy answer to this question. It depends on the type of procedure and how many procedures were done. But if you look after your teeth and see us regularly for checkups and cleanings, you can expect to get many years of enjoyment from your makeover.