Smile Makeovers – New Lenox
Transform Your Smile & Your Life!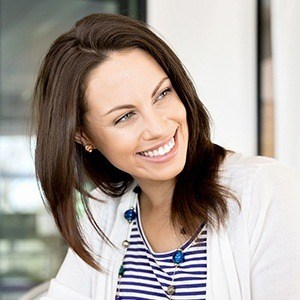 Makeovers are very much at the forefront today – all you have to do is turn on your television, and you'll find shows that are specifically dedicated to helping you lose weight, improve your fashion sense, and even become a model. Talk shows also often feature makeover segments with makeup, hairstyling, and clothing that can transform even the most unappealing person into someone you'd definitely look twice at if you passed them on the street. Realistically, a smile makeover isn't going to transform you into movie star material, but if your teeth are generally stable and straight and your jawbone is healthy, a cosmetic dentist can give you a smile makeover that will make you feel better about yourself.
Why Choose Us for Smile Makeovers?
Years of Proven Cosmetic Expertise & Training
All-Ceramic Materials For Outstanding Aesthetics
Painstakingly Personalized Treatment Plans – Your Goals Come First!
What is a Smile Makeover?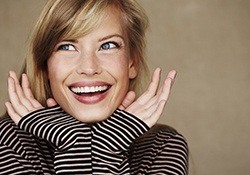 A smile makeover is a procedure that gives you a brighter, better smile. Depending on the condition of your teeth, your makeover could include treatments like whitening, bonding, implants, or veneers.
A smile makeover is different from a reconstruction, although some aspects of a makeover do include reconstructive dentistry. The term "reconstruction," though, is usually used to define a procedure that is required to restore function. A makeover may do that, but it will be incidental to the main purpose of giving you the smile you've always dreamed of.
The difference between a makeover and a reconstruction, then, is that when it comes to reconstruction, you don't have a whole lot of choice – you have to have a certain treatment done if you're going to be able to use your teeth properly. A smile makeover is your choice. What do you want to have done?
Who Benefits?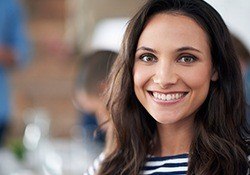 Anyone who has something about their smile that is displeasing is a good candidate for a smile makeover. Some of the conditions that a makeover can help to fix include:
Missing Teeth – Even one missing tooth can ruin your smile. Solutions include bridges, implants, or partial dentures.
Discolored Teeth – If your teeth are dull or dingy, you could benefit from a whitening treatment. If your teeth have become permanently darkened, perhaps due to illness, porcelain veneers can give you a dazzling smile.
Aging Face – As we age, we can lose bone volume, causing the face to sag. If you're not aging as gracefully as you'd like, you could benefit from orthodontic treatments or maxillofacial surgery.
Poor Alignment and Spacing – Gapped, overlapping, or crooked teeth can be straightened and aligned with orthodontic procedures. At Atrium Family Dental of New Lenox, we can also provide you with Invisalign® clear aligners.
With modern dental procedures, cosmetic dentists can correct or at least improve practically any dental problem that is adversely affecting your procedure.
How Long Does a Smile Makeover Last?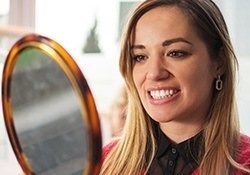 There's no easy answer to this question. It depends on the type of procedure and how many procedures were done. But if you look after your teeth and see us regularly for checkups and cleanings, you can expect to get many years of enjoyment from your makeover.
Smile Makeover FAQs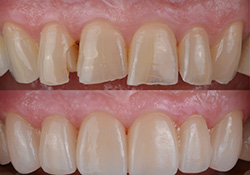 Smile makeovers involve quite a few different cosmetic procedures, which makes them a little complicated to understand completely. No matter how experienced you are with dentistry, you're bound to have questions about what the procedures will entail.
When you see us for a consultation, we'll be happy to answer any questions about your smile makeover. Until then, here's some information you may find useful.
Who is a Good Candidate for a Smile Makeover?
Smile makeovers consist largely of cosmetic dental treatments, most of which are simple and non-invasive. As a result, nearly all cosmetic treatment options are perfectly fine for just about anyone who wants them.
That said, the people who will get the most out of smile makeovers in particular are those who have serious aesthetic issues that they need to deal with. These can be severely chipped teeth, deep stains, serious misalignment, or a combination of aesthetic issues. In these cases, a smile makeover can make an incredible difference in how you look and feel.
Can You Undergo Multiple Procedures During One Appointment?
It's natural to want to make your dental work fit your busy schedule, so you may want to try and get several procedures during one appointment. This is definitely possible, but it depends on what kinds of procedures you're getting.
For example, you may be able to get both teeth whitening and cosmetic bonding within a single appointment, but you probably can't do the same thing with teeth whitening and veneers. It's also good to keep in mind that getting several procedures during one appointment will make that visit longer, so you should be sure you have enough patience to handle sitting still that long.
How Long Can I Keep My Smile Looking This Way?
The amount of time that your cosmetic dental work will last depends a lot on what kind of cosmetic dentistry you're getting and how well you take care of your teeth afterward. In general, the faster and easier the procedure (like in the case of teeth whitening), the less time you can expect the results to last.
More extensive treatments, like veneers, tend to last longer, and things like Invisalign treatment can even last forever if you wear your retainer afterward.
However, the key thing is to take care of your teeth after the cosmetic treatment is done. No matter what procedures you get, that principle holds true.
Do Smile Makeovers Have an Age Limit?
Given how much work goes into a smile makeover, you may wonder whether you can be too old or too young to get one.
Thankfully, that really isn't the case. The procedures that make up a smile makeover are a great choice for just about anyone, with a few exceptions. For example, teeth whitening is typically discouraged for anyone under the age of 14, and veneers are not a good choice for baby teeth.
On the other side of the age spectrum, it's recommended that you not get any cosmetic dental work before addressing any oral health issues. That would be like building a mansion on a shoddy foundation. For that reason, we'll perform extensive exams at your consultation to determine whether you need any preliminary treatments before your cosmetic dental work.