Emergency Dentist – New Lenox, IL
We Can Help with Oral Injuries and Toothaches
Dental accidents can occur on the football field or in your own home. Toothaches can strike at any time when you least expect them. It's important to have a dentist you can turn to right away when it matters most, and Dr. Albert, Dr. Stylski, and Dr. Snow all strive to do just that. Call us as soon as an emergency occurs; we'll make room in our schedule to see you right away so that your dental pain can be dealt with in a compassionate manner as soon as possible.
Why Choose Atrium Family Dental of New Lenox for Emergency Dental Care?
Same-Day Emergency Appointments
Digital Technology for Planning Treatments
A Highly Skilled Staff That Puts Comfort First
How We Help You Treat Dental Emergencies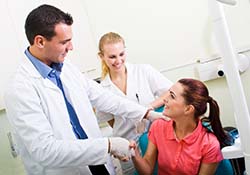 Start by giving our office a call. Our team members will do everything they can to get you scheduled the same day that you get in touch, especially if you are in a lot of pain. Same-day appointments are available at Atrium Family Dental of New Lenox, so you're always encouraged to call. We will also be able to provide guidance over the phone if getting to our office is not possible at this time.
Once you arrive, we will start by examining your mouth, then capture X-rays if needed to confirm the source of your dental problem. This is typically done when there is tooth pain present and the cause is not immediately clear.
Finally, our dentists will develop a treatment plan that addresses the problem at the source. The last thing we want is for the problem to come back or redevelop. The most common treatments for addressing these concerns include dental fillings and root canal therapy, but they are not the only services we may recommend.
The Most Common Dental Emergencies
There is no "one-size-fits-all" answer as to what to do in the event of a dental emergency. Some emergencies are caused by traumatic accidents while others are the ultimate result of tooth decay. So the best form of care is going to vary from case to case. Of course, one constant is that you should call our office right away so that we can schedule an appointment and give you first-aid tips over the phone. Below, you'll find our advice for dealing with some specific emergencies.
Understanding the Cost of Dental Emergencies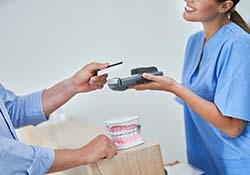 The amount you'll have to pay for emergency dental care will vary based on what your smile needs. Stopping your pain and preventing further damage should always be the primary goal, and as such, we'll only recommend services that we determine are necessary for your care. We'll also review your payment options with you to help you fit the cost of emergency dentistry in New Lenox into your budget.
Every Dental Emergency Has a Unique Price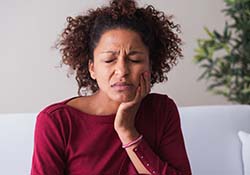 Many patients are pleasantly surprised to learn that the initial visit with an emergency dentist is actually relatively inexpensive. During this appointment, our team will examine your mouth, determine the extent of the damage, and come up with a personalized treatment plan to get your smile back on the right track.
The specific procedures you'll need will vary based on the type of emergency you're experiencing, so it's basically impossible to know how much your care will cost until you come in for an exam. Rest assured we'll thoroughly explain the pricing information for all of your options before beginning any treatment.
Caring for Your Smile Can Save You Big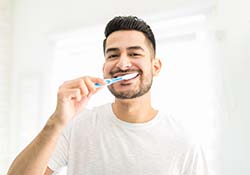 Some dental emergencies cannot be predicted. For example, you could suddenly fall and chip your tooth on the sidewalk. However, the majority of dental emergencies occur as a result of decay, infection, or other damage that has been steadily worsening over time. By taking the time to invest in routine dental checkups and at-home oral hygiene, you could save hundreds or even thousands of dollars a year on urgent dental care.
Another way to save money is to contact your emergency dentist in New Lenox as soon as you notice that something is amiss. Even if you're worried about the cost, putting off treatment could worsen your pain – not to mention, you're more likely to require more expensive (and invasive) procedures later on.
Does Dental Insurance Cover Dental Emergencies?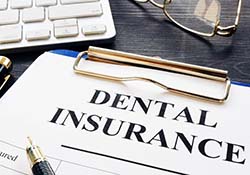 The good news is that most dental insurance plans offer some level of coverage for emergency care. For instance, many of them will pay for one needed emergency exam per year. Additionally, treatments often associated with dental emergencies (root canal therapy, dental crowns, etc.) may receive 50% to 80% coverage in most cases.
However, each plan is different. Yearly maximums and deductibles also must be considered. This is why it's crucial to consult your insurance company before committing to any specific treatment.
Other Options for Making Dental Emergencies Affordable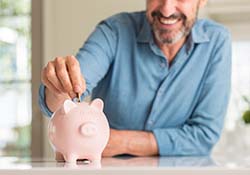 While we are in-network with Delta Dental Premier, Cigna, Principal, and BlueCross BlueShield/DNoA, we understand that not everyone has dental insurance. That's why we offer additional financing options.
This includes CareCredit, a third-party company that lets you break up the cost of your treatment into reasonable, low-interest monthly payments. Our in-house dental plan, the Smile Saver Club, also helps make your treatment more affordable. For a small monthly fee, you get access to much of the same coverage as insurance (including one emergency exam a year) without all of the red tape that insurance comes with.
Keys to Preventing Dental Emergencies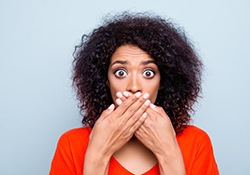 While many dental emergencies are the result of sudden accidents or injuries and cannot be avoided, many others are actually quite preventable. That's because tooth decay, fractures, and infections often develop gradually and remain unnoticed until an emergency strikes. Even though it's impossible to bring your risk down to zero, you can greatly reduce your risk by taking these five steps to prevent dental emergencies in New Lenox.
Visit Our Dental Office Regularly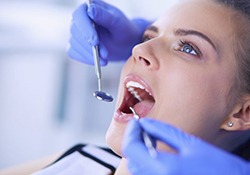 Because cavities and other potential emergencies often don't come with obvious symptoms in the early stages, it's important to visit Atrium Family Dental of New Lenox for routine checkups and cleanings. Typically, we ask that you attend these appointments every six months. We'll have an opportunity to detect any warning signs of emergencies and stop them in their tracks before they cause any harm.
Maintain Good At-Home Oral Hygiene Habits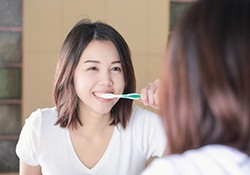 Keeping your teeth and gums clean between appointments is another simple way to minimize the risk of dental emergencies. Neglecting to brush and floss often enough will encourage plaque and tartar to build up. These particles could eventually weaken your tooth enamel and inflame your gum tissue, both of which can quickly turn into a dental emergency. To prevent this, all you have to do is brush twice a day, floss every night before bed, and rinse with an antibacterial mouthwash on a regular basis.
Be Careful with Your Diet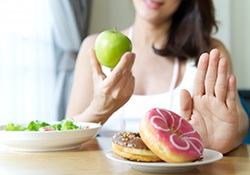 It's no secret that overindulging in sugary sweets can lead to painful cavities. However, starchy foods also break down into sugar particles in your mouth, which feed the harmful bacteria in your mouth. There's nothing wrong with enjoying a bag of potato chips or a candy var every now and then, but remember that moderation is key. You should also make sure your diet has plenty of lean proteins, leafy greens, fresh fruits, and dairy products to keep your teeth and gums in great condition.
Wear a Mouthguard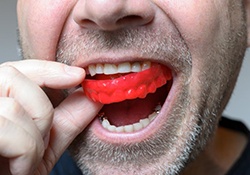 Tooth enamel is even stronger than bone, but that doesn't mean that a sudden injury or long-term pressure can't damage it. If you play a sport where you could possibly take a blow to the face, ask us about getting a custom mouthguard for protection. Similarly, if you grind and clench your teeth while you sleep, we can provide a personalized nightguard to shield your smile from this pressure.
Never Use Your Teeth to Open Packaging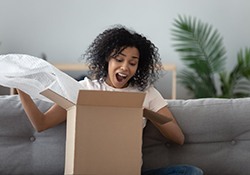 As excited as you may be to open a long-awaited package that just arrived, you should avoid tearing it open with your teeth. It may seem like an easy way to save a few moments, but it could actually end up costing you a great deal of time (and money) getting a chipped or cracked tooth fixed! In general, your teeth were not made to withstand anything more forceful than biting and chewing food. To avoid harming your smile and having to visit our emergency dental office in New Lenox, always keep a box cutter on hand so that you're not tempted to use your teeth instead.
Dental Emergency FAQ's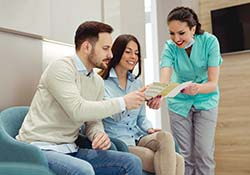 At Atrium Family Dental of New Lenox, we aim to provide our patients with the knowledge they need to take good care of their teeth and gums in between checkups. However, sometimes a dental emergency strikes despite your best efforts. The last thing you want to deal with in this stressful situation is confusion. That's why we've included the answers to some emergency dentistry FAQs in New Lenox below.
Should I seek emergency treatment immediately?
Absolutely! Even if you're uncertain that your problem "counts" as an emergency, you should contact us right away if you're experiencing any kind of dental discomfort. Although general medical issues often heal on their own, dental problems usually worsen if you ignore them. In the case of a broken or knocked-out tooth, seeing us as soon as possible may mean the difference between saving and losing your tooth.
When should I go to the ER instead of the dentist?
If your dental emergency also threatens your life, then you should immediately head to the ER instead of our office. This includes situations such as a fractured or dislocated jaw, uncontrollable bleeding, or swelling so severe that it prevents you from swallowing or breathing normally. Because most ER doctors are not qualified to perform specific dental procedures, you should visit us for all other emergency dental situations.
My toothache went away. Should I keep my appointment?
Definitely! Some people believe that the occasional toothache is normal, but it's never a good sign. Generally, pain is your body's way of alerting you that something is wrong. Even if a toothache subsides, the underlying problem, such as tooth decay or gum disease, likely remains. It couldn't hurt to schedule an appointment with us. We can examine your smile and determine whether there is a problem hidden beneath the surface that needs treatment.
How can I be prepared for a dental emergency?
While dental emergencies can often be prevented with diligent oral hygiene, regular cleanings, and wearing a mouthguard to protect against injuries, they can't always be avoided. If one does occur, it helps to be prepared by having dental emergency kits in easily accessible locations, such as the glove compartment in your car, your bathroom cabinet, or even your desk at work. Make sure to include the following items so that you can handle most types of dental emergencies:
Our contact information
Saline solution
Gauze pads or handkerchief
Small container with a tight lid
Latex-free gloves
Ibuprofen