Tooth-Colored Fillings – New Lenox, IL
Your Invisible Filling Solution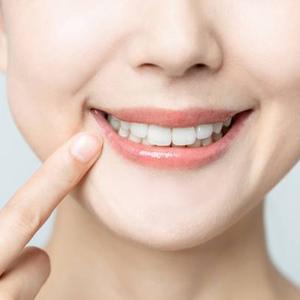 For many years, the best material available for filling a cavity was amalgam. As a result, some older patients may still have this kind of filling. Although amalgam has its advantages, they leave unsightly silvery blobs on your teeth, letting everyone know that you once had a cavity there. But now at Atrium Family Dental of New Lenox, we offer a more advanced way to restore your decayed teeth—tooth-colored fillings. This solution blends seamlessly with your tooth enamel, so all you or anyone else will see are healthy, naturally beautiful teeth.
Why Choose Us for Tooth-Colored Fillings?
Safe, biocompatible materials
Expert dental care with a gentle touch
Advanced training and technology for better treatment
What are tooth-colored fillings made of?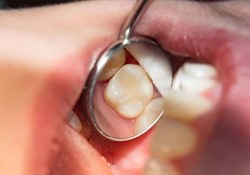 Unlike amalgam, which contains a compound of mercury, copper, tin, and silver, tooth-colored fillings are completely metal free. They consist of composite resin, which combines plastic with fine ceramic particles, making it a biocompatible material that can be shaded to match many tooth colors. Because of these properties, tooth-colored fillings bond directly to your tooth enamel very well and can become practically invisible, especially to the untrained eye.
What are the benefits of tooth-colored fillings?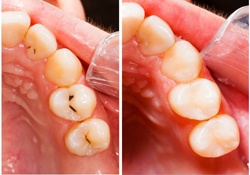 Although amalgam fillings are durable and long-lasting, they are certainly far from perfect. In addition to the poor aesthetics, amalgam fillings do not bond well with tooth enamel, which means that they require removing more tooth structure to ensure they stay in place. Also some patients with amalgam fillings have reported increased sensitivity to hot and cold foods and drinks. On the other hand, tooth-colored fillings have many benefits that address these failings, including the following:
They look appealing and natural.
They preserve more healthy tooth structure.
They support and strengthen your tooth.
They help prevent sensitivity to hot and cold foods and drinks.
How are tooth-colored fillings placed?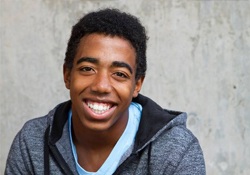 The process for getting tooth-colored fillings is fast and straightforward and goes as follows:
One of our experienced, talented dentists will administer a local anesthetic to ensure that you feel no discomfort.
They will then remove the decayed portions of your tooth.
They will choosing the closest match to your enamel color for the composite resin.
Then, they will apply the putty-like resin to your tooth, sculpting it into the desired shape.
A curing light will help the resin harden more quickly.
Finally, they will make final adjustments to the restoration, smoothing rough surfaces and making sure that your bite is comfortable.
Within a short period of time, your tooth can be restored to full health, strength, function, and appearance.
Do tooth-colored fillings require any special care?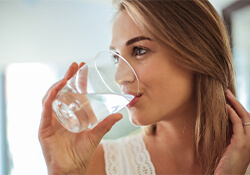 No matter the type, how long your dental work lasts greatly depends on how well you take care of it. Luckily, however, tooth-colored fillings only require the same care you give to your natural teeth. This entails healthy oral habits, such as flossing and brushing daily and visiting our New Lenox dental office twice a year for cleanings and checkups. Maintaining these crucial habits can help prolong the lifespan of your fillings and your natural teeth for years to come. If you want additional protection from tooth decay and bacteria, here are some other things you can do:
Consume less sugar.
Use a fluoride mouthwash daily.
Drink more water.
At Atrium Family Dental of New Lenox, we are committed to getting you back to oral health, and tooth-colored fillings are a great way to do just that. Our team has the skills and expertise to get the job done well, and our friendly, gentle touch makes dental work more comfortable and enjoyable for you. We invite you to come see the difference we can make for your dental experience. Contact us today for an appointment!