Veneers – New Lenox
Comprehensively Transform Your Self-Confidence
Veneers are extremely thin layers of high-quality restorative material. Unlike traditional crowns, they're designed to be placed over just the front surfaces of teeth instead of the entire shape, hiding years of cosmetic flaws and imperfections from view behind a new, stunning appearance. At Atrium Family Dental of New Lenox, we offer two types of veneers: resin composite and porcelain. In most cases, resin composite veneers can be completed in just one appointment. While the procedure is less expensive than its porcelain counterpart, the improvements will not be as durable and long-lasting.
Alternatively, porcelain veneers will require at least two appointments. They are painstakingly fabricated in a trusted dental laboratory setting, using detailed impressions that our dentists will capture during your initial visit. Once completed, porcelain veneers are highly lifelike, beautifully customized, and meant to last for a decade or longer. Patients can even alter the sizes and shapes of certain teeth if they choose to do so! To learn more about this transformative procedure or schedule a first appointment here in New Lenox, please contact us today.
Why Choose Us for Veneers?
Top-Tier Ceramic Materials For Lasting Aesthetic Improvement
Full Customization – No "One Size Fits All" Results
Comprehensive Smile Makeover Plans Available
Are Veneers the Right Choice For Me?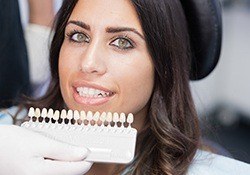 Porcelain veneers are an excellent way for countless patients to enhance their smiles! Here are just a few situations where this cosmetic service could work wonders:
If a patient would like to alter the shape and/or color of certain teeth
If a patient has experienced noticeable acid erosion and/or teeth grinding
If a patient has enamel defects that occurred during the development of their teeth
If a patient would like straighter teeth but doesn't want to wear noticeable metal braces for months or years on end
Understanding the Cost of Veneers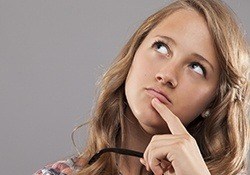 The average cost of veneers in New Lenox will vary greatly from patient to patient. The average price for a single composite resin veneer is around $600, while a single porcelain veneer may range from $900 to $1400. The best way to discover your personal estimate is to schedule a one-on-one cosmetic consultation with our dentists here at our New Lenox dental office. If you want that Hollywood look, you can't go wrong with veneers; however, if you're unsure whether this type of cosmetic treatment is what you need to achieve your desired look, make sure to weigh all available options, each at a different price point.
Cost vs. Cosmetic Dentistry: What's Right for Me?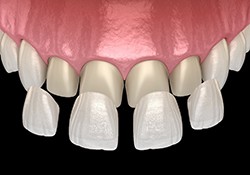 At Atrium Family Dental of New Lenox, Dr. Albert and our team of experts are here to help you choose the cosmetic solution that is right for your individual needs. Depending on your goals and what you hope to accomplish, these particular treatments can help you see a new and improved smile:
Veneers: Veneers in New Lenox offer tremendous benefits, especially if you want to change the size, shape, and color of your teeth. Versatile in hiding many cosmetic flaws, they are more expensive than other solutions (i.e., dental bonding, teeth whitening) but offer a permanent way to improve your smile.
Dental Bonding: A great way to hide small flaws, dental bonding is less expensive than veneers but also requires that you replace it every few years. It is, however, less invasive, so your cosmetic dentist in New Lenox won't need to remove much, if any, tooth enamel.
Teeth Whitening: If stains and discoloration are the only concerns, you might consider teeth whitening, as it can blast away stains in little time and is highly affordable. Of course, this type of cosmetic treatment only addresses the color of your teeth, not the size or shape.
Invisalign: Orthodontic treatment of any kind is typically quite expensive. Invisalign can straighten crooked, misaligned, gapped, or crowded teeth but cannot change the size, shape, or color.
How to Make Veneers Affordable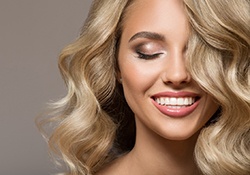 Veneers are a costly procedure that requires you have a plan to pay for treatment. Because most dental insurance companies do not offer available coverage for this type of care, you may wonder if there's any way you can move forward with a new smile while keeping costs affordable. Fortunately, there is!
Smile Saver Club: When you pay a one-time activation fee and low monthly payments, you can receive routine preventive care as well as 10% off other treatments when paying with cash or check.
Flexible Financing: Eligible individuals can enroll in a low or zero interest financing plan through CareCredit. Breaking up the cost of your veneer treatment into manageable monthly installments will make it easier to budget your care and get the smile you desire.
How Should I Plan for Veneers?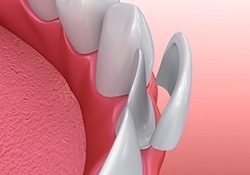 Before investing in a smile transformation with veneers, we can provide patients with a sneak peek of their new and improved appearance. Our trusted dental laboratory will fabricate detailed models of your mouth (using an impression captured by our dentists of the pre-treated teeth) and then add wax to accurately depict the veneer. This will help our team make any important adjustments to the design and move forward confidently with your treatment plan.
What are the Benefits of Veneers?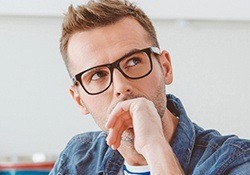 Veneers can improve smiles quickly and leave patients feeling satisfied at last about the image they're projecting to the world around them. Please don't hesitate to contact Atrium Family Dental of New Lenox today if you'd like to learn more about whether or not you're a good candidate for this cosmetic service.
Answering Your Questions about Veneers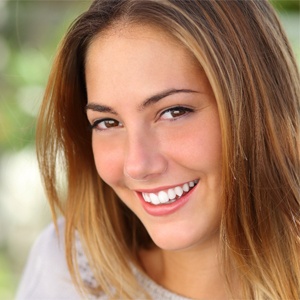 Before starting any treatment, you want to be sure that it's right for you, especially because getting porcelain veneers entails a permanent change to your tooth structure. At Atrium Family Dental of New Lenox, we completely understand and agree! Here are the answers to some questions that patients have asked us in the past about porcelain veneers. We hope they help you determine whether you'd like to pursue this effective, long-lasting treatment.
What the most likely reason that my porcelain veneer would need to be replaced?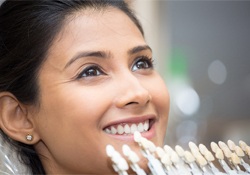 Porcelain is very durable and can certainly withstand the normal wear and tear you put it through, lasting between 5 and 10 years. Most of the time, porcelain veneers are replaced because gum recession has exposed the roots of the teeth, so new veneers are created to cover them up. The better you take care of your teeth and your veneers, the longer they will last and continue to look amazing.
How do I care for my veneers?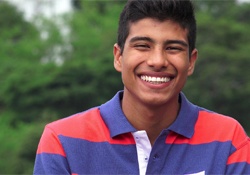 With any dental work, you have to maintain it to ensure its longevity. Porcelain veneers require very similar upkeep as your natural teeth. You need to brush twice and floss once every day and come to our office for dental checkups and cleanings twice every year. When you play sports, wear a mouthguard to protect your teeth, and consider wearing a nightguard, especially if you grind your teeth while you sleep. You could also avoid eating hard foods, such as almonds, or cracking shells with your veneers. In addition, you should refrain from bad oral habits, including nail biting, chewing on ice, chewing on pens, or using your teeth to open packaging or bottles, and the like to prevent unnecessary stress on your veneers.
How do you get the porcelain veneers to match my teeth?
We can select a specific shade for your porcelain veneers to blend in seamlessly with the current color of your teeth. On the other hand, if you would like to have whitening treatment for your other teeth, we can pick a whiter shade for the veneer, so your new, updated smile is both brilliant and flawlessly beautiful.
Does getting porcelain veneers hurt?
In order to make space for the porcelain veneer, we have to remove a small portion of enamel from the front surfaces of your teeth. We typically administer a local anesthetic beforehand, so you shouldn't feel any discomfort. If you're getting porcelain veneers for all of your teeth, they could feel sore after the anesthetic has worn off, but this can be managed with over-the-counter pain medication.
What should I do if one of my porcelain veneers comes off?
Although it's rare, veneers can come off. Try to save the veneer and call our office right away. Do not try to use at-home glues or adhesives to reattach it. Until you get the veneer put back on, your tooth could feel sensitive to hot and cold sensations, but you should feel back to normal after we bond the veneer on again.
If you have any additional questions, please contact our New Lenox office. Our specialists would be happy to address any concerns and get you on the path toward your dream smile!