Preventive Dentistry – New Lenox
Enjoy A Healthy Smile For Life
Maintaining a healthy smile isn't just a one-time accomplishment, like winning a race – it requires a lifelong commitment, both in the form of brushing and flossing diligently at home and regularly visiting your chosen dentist's office for ongoing care. At Atrium Family Dental of New Lenox, we'd love to be your partners throughout the years in pursuit of this goal, providing dedicated dental checkups, revitalizing teeth cleanings, and other preventive services that can help you avoid common pitfalls like decay and periodontal disease. Contact us today in New Lenox, IL to get started!
Why Choose Us for Preventive Dentistry?
3 Dedicated Dental Experts In-Office
State-of-the-Art Digital Technology for Superior Diagnostic Care
Extended Evening & Early Morning Hours Available
Dental Checkups & Teeth Cleanings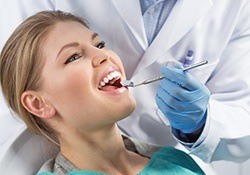 Even if you practice oral hygiene at home every day, common dental problems can still subtly develop in ways that may go unnoticed by untrained eyes for too long. Therefore, our doctors strongly recommend that patients of all ages attend at least two professional checkups and cleanings each calendar year. We'll take the time to review your smile in full, comprehensive detail, assessing each tooth, your jaw, your overall bite, any existing restorative work (such as crowns or fillings), your gum tissue, and more. Additionally, our hygienist will remove harmful bacterial build-up and polish the enamel surfaces, leaving your smile nicely refreshed.
Learn More About Checkups And Cleanings
Children's Dentistry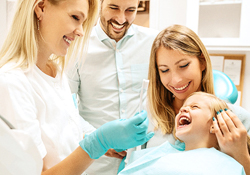 Even the youngest member of your family needs quality dental care, which is why at Atrium Family Dental of New Lenox, our dentists use kid-friendly methods to help your child develop good oral habits from the start! Emphasizing preventive care, we will work with your child to provide fun and exciting tips for brushing and flossing, as well as offer beneficial treatments to keep their smiles cavity and decay-free. You can trust that your children's oral health is in good hands with our dentists at Atrium Family Dental of New Lenox.
Learn More About Children's Dentistry
Dental Sealants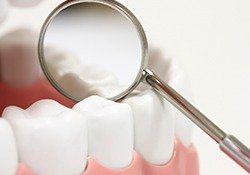 When younger patients are first learning how to brush and floss, it's very likely that the deep grooves along the chewing surfaces of back teeth (the molars and premolars) will be missed. In order to keep these vulnerable surfaces safer and cavity-free, our team may recommend the placement of dental sealants. Sealants are made of a safe and tough plastic-based material that is painted onto the enamel and hardened, forming a sturdy barrier that will block out food particles. While children are the best candidates for sealant placement, adults who are especially sensitive to tooth decay may benefit as well.
Nightguards for Bruxism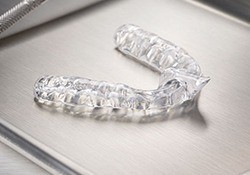 Bruxism (more commonly referred to as habitual teeth grinding) is a very common health problem. Many patients don't even realize they're experiencing it because it only occurs while they're asleep and unaware. If any of the following symptoms are familiar to you, be sure to let our dentists know so they can assess your smile more closely:
Constant headaches and migraines
Dental surfaces that appear strangely worn-down or flat
An excessive amount of oral sensitivity
Tired/overly tight jaw muscles
Chronic, lingering jaw pain, especially in the mornings
Injures to the soft tissue on the inside of either cheek
Custom-made nightguards are available to help prevent the rows of teeth from meeting in harmful ways, allowing patients to finally rest easier.
VELscope Oral Cancer Screening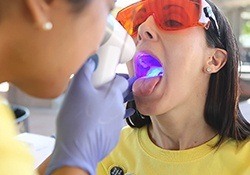 Tens of thousands of people are diagnosed with oral cancer every year, many of whom are already experiencing advanced stages of the illness. In order to protect our patients' health and even potentially save their lives, we've chosen to invest in VELscope technology for oral cancer screenings. When passed over oral tissue, this state-of-the-art tool will cause abnormal cells to appear white in color, while healthy tissue will stay dark. This makes it much easier to identify even the smallest problematic areas and reduce the risk of cancer slipping by unnoticed.
Fluoride Treatment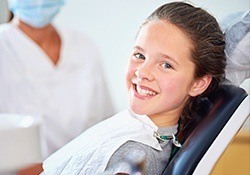 Fluoride is a natural mineral that can be found all around us – in countless oral hygiene products like toothpastes, several popular foods, and even (most likely) the water you drink out of the kitchen sink. Years of dedicated research have demonstrated a positive link between safe fluoride exposure and stronger, healthier tooth enamel. If you or your loved ones aren't getting enough fluoride in daily life, professional treatments are available here in New Lenox. This application only takes a few minutes during a regular checkup and cleaning, and your smile will surely appreciate the extra boost of protection.
Under Armour Mouth Guards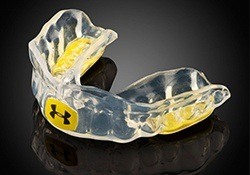 If you or a family member regularly plays sports that involve the possibility of physical contact, it's crucial to protect smiles from potential harm just as fervently as you do your head and knees. At Atrium Family Dental of New Lenox, we can provide Under Armour Mouthguards, which are painstakingly customized for each wearer's unique mouth and designed to provide optimal comfort and flexibility.