Invisalign® - New Lenox
Enjoy Straighter Teeth Without Metal Braces
At Atrium Family Dental of New Lenox, Dr. Albert, Dr. Snow, and Dr. Stylski all understand the importance of maintaining a polished appearance in the professional world. Many older patients dream of achieving a straighter smile that's free of noticeable crookedness and gaps, but they can't commit to wearing noticeable metal braces for months or years on end. Thankfully, there's an alternative: Invisalign clear braces in New Lenox! Like the name implies, this treatment is nicely subtle and image-friendly. If you're interested in learning whether or not it's right for your unique smile, schedule a consultation today.
Why Choose Atrium Family Dental of New Lenox For Invisalign?
Certified Invisalign Provider & Team of Experienced Dentists
Some Evening & Weekend Appointments Available
CareCredit Financing & Our In-House Dental Plan for Affordable Treatment
How Invisalign Works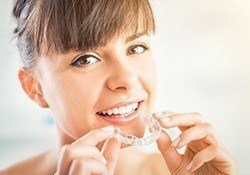 Invisalign® technology utilizes a series of removable, clear, and comfortable set of aligners that no one will be able to tell you are wearing. Made with a state-of-the-art 3D computer imaging technology, Invisalign® is an effective and easier solution than traditional orthodontic treatment. Invisalign doesn't use brackets or wires to gradually straighten teeth like traditional metal braces. Instead, this modern system relies on a series of customized, clear aligners. Each aligner will represent a different stage of the patient's teeth as they're guided towards the proper places, and they'll be worn for around two weeks at a time. The clear plastic nature of the aligners is also highly comfortable in the mouth and likely won't even be noticed by most people you pass in a day unless they look closely.
Patients who commit to Invisalign treatment will need to visit our dentists at Atrium Family Dental of New Lenox every six weeks on average so that we can check their progress. We will also provide the next set of aligners during this time. This service is best suited to smiles with mild to moderate orthodontic issues, such as the following:
Overcrowding
Gaps between teeth
Crooked teeth
Misaligned bite
If the problems are too severe, traditional braces may be recommended instead.
What Is Invisalign Teen?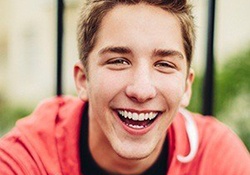 Invisalign Teen is very similar to traditional Invisalign treatment, but it does have a few distinct tweaks that are better suited to younger patients. Your son or daughter will have access to a greater number of replacement aligners if their current one is badly damaged or lost, and the aligners themselves contain a blue dot that will change to clear or white over time to show that it's being worn correctly. This also helps teenagers remember when it's time to switch to the next one in the set!
How Does Invisalign Teen Work?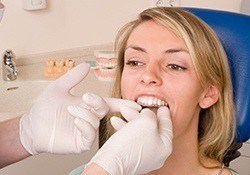 Invisalign Teen works in a similar manner to traditional braces, but they pressure with plastic trays to help teeth move into the desired position instead of bulky wires and brackets. Invisalign Teen can help with a variety of orthodontic issues, including crowding, spacing problems, overbite, and underbite.
Is Invisalign Teen Right for My Teenager?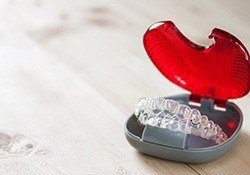 Recent research has concluded that 95% of teenagers worry about their appearance when wearing metal braces. However, with Invisalign® Teen, nobody will even be able to notice that your son or daughter is undergoing orthodontic treatment. They can play sports and instruments, present in class, and hang out with their friends feeling completely confident in their smile.
Atrium Family Dental of New Lenox is a popular Invisalign® Teen provider in New Lenox, Illinois and we will be able to help you decide whether or not Invisalign® Teen is right for you. Give us a call or book an appointment for an Invisalign® consultation today.
The Benefits of Invisalign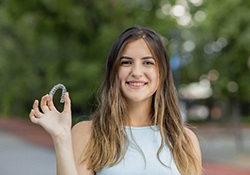 For adults, teens, and everyone in between who have always wanted straighter teeth, Invisalign® is the perfect solution. Not only are the aligners invisible, but they're completely removable too, allowing you to eat and drink whatever you want. The aligners are also extremely comfortable, with no metal that causes uncomfortable mouth abrasions and less time needed in the dentist's chair for adjustments. Read on as we go over just a few of the most popular benefits Invisalign offers.
Clear Braces Are Practically Invisible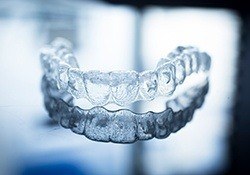 Some people avoid getting braces because they don't want to have a mouth filled with highly visible metal. If your top priority is to maintain a natural appearance throughout orthodontic treatment, look no further than Invisalign. The aligners are extremely discreet to the point that patients may forget they're wearing them in the first place.
Invisalign Is Convenient & Removable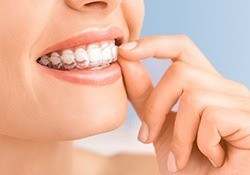 Invisalign aligners can be removed from the mouth at any time, although patients will need to plan to wear them for at least 22 hours each day to maximize the success of their treatment plan. You will be able to eat all of your favorite foods and even chew gum, as well as brush and floss at home without having to navigate tricky wires and brackets. If you'd like to look your very best for a photo or a special event, it's even fine to take out the aligner as long as you remember to put it back in before too much time has passed.
A More Comfortable Straightening Experience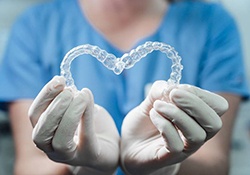 Orthodontic wires and brackets may poke or irritate the gum tissue over time. Thankfully, Invisalign aligners are crafted from a smooth, high-quality plastic that feels very comfortable when worn.
Enjoy Faster Results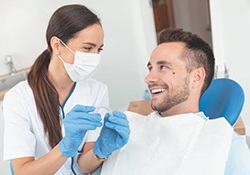 While every patient's needs are different, most people can expect to complete Invisalign treatment in 12-18 months. This is a significant improvement over traditional braces, which often have to be worn upwards of two years.
Understanding the Cost of Invisalign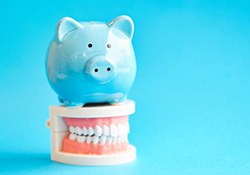 Because everyone's teeth are unique, there is no one-size-fits-all cost for Invisalign treatment. Instead, the overall cost of Invisalign in New Lenox is influenced by a number of factors that our team at Atrium Family Dental of New Lenox will discuss with you during your initial consultation. We want you to achieve a healthier, straighter smile, but we also want to help keep your costs as low as possible, which is why we'll be happy to maximize your dental insurance benefits as well as provide alternative ways to pay if you are uninsured or need help to pay any remaining balance.
Factors that Affect the Cost of Invisalign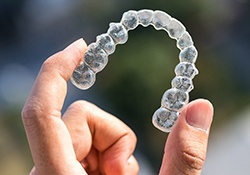 No two patients are alike, so it is necessary that you come in to see our Invisalign dentist in New Lenox for a consultation. While examining your smile, we will consider the following factors to determine how much you can expect to pay for your Invisalign treatment:
Whether you need aligners for just the top or bottom arch or both
How severe your case is, as it will be much easier to close a small gap than to realign an overbite or crossbite
How long you will be required to undergo treatment, as the more aligners you need, the costlier your treatment will be
Invisalign vs. Smile Direct Club™: Which Costs More?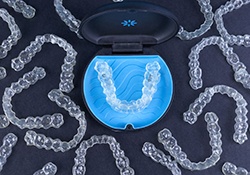 A do-it-yourself (DIY) clear aligner system might sound like a better idea, especially since it costs much less than Invisalign ($2,000 as opposed to $3,000-$8,000); however, some potential pitfalls can come with cheaper solutions like Smile Direct Club, such as:
You are required to take your own impressions, which can mean less accurate results and ill-fitting aligners
You will have no oversight by a licensed orthodontist, which can be problematic should you experience issues throughout your treatment
You will be responsible for moving through your treatment by yourself, so if a problem does develop, you may not realize it until too much damage is done
While Invisalign in New Lenox does cost more, it is well worth the investment. Not only will you be guaranteed professionally crafted aligners, but they will fit comfortably and offer predictable results. Also, our team will be with you every step of the way ensuring no problems occur throughout treatment.
Does Dental Insurance Cover Invisalign?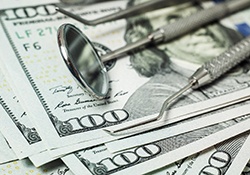 The good news is that if your dental insurance already covers traditional orthodontic treatment, your plan likely covers clear braces treatment like Invisalign as well. Be sure to check with your insurance provider, however, before electing to move forward with any orthodontic treatment. We'll be happy to go over the details of your insurance plan with you and ensure your benefits are being maximized. You should also know that if you have a Flexible Spending Account (FSA), you can use those funds to help pay for your Invisalign treatment.
Options for Making Invisalign Affordable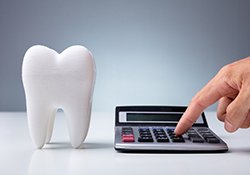 If you're uninsured, Atrium Family Dental of New Lenox is pleased to provide the Smile Saver Club, which is an in-house membership plan that allows individuals the opportunity to pay a low monthly payment for access to an array of benefits and discounts on various services. Also, whether you are insured or not, you can apply for flexible financing through CareCredit. This third-party company provides low and zero interest payment plans, allowing you to better budget for your Invisalign treatment by making monthly installments.
Invisalign FAQs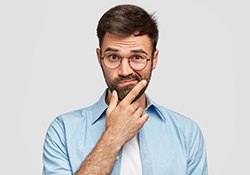 Do you want to know more about how Invisalign treatment can straighten teeth in New Lenox? At Atrium Family Dental of New Lenox, we believe in giving our patients all the information they need to make informed decisions about their dental health. That is why our team has compiled some of the most common questions and answers about Invisalign in this handy FAQ section below. If you still have more questions after reading, please do not hesitate to give us a call!
Can I Benefit from Invisalign If I Had Metal Braces in the Past?
It is not uncommon for teeth to shift over long periods of time, even with prior orthodontic treatment. However, Invisalign treatment can safely and effectively shift teeth back into the desired position regardless! So, even if you had metal braces years ago in high school but are currently unhappy with the alignment of your teeth, you can likely benefit from Invisalign in New Lenox. The best part? This time around, you can straighten your smile without having to repeat the experience of having uncomfortable and unsightly metal brackets and wires in your mouth.
Are Invisalign Aligners Chemically Safe for My Mouth?
Invisalign treatment is a perfectly safe way to realign your smile and will not cause any serious bodily harm. Invisalign aligners are crafted from medical-grade polyurethane plastic, a material that has been approved by the U.S. Food and Drug Administration (FDA) for long-term use in the body. The revolutionary clear braces do not contain any harmful chemical compounds such as Bisphenol A (BPA), parabens, latex, phthalates, glutaraldehyde or epoxy, according to the manufacturer.
How Long Does Invisalign Treatment Take?
Ultimately, the length of your custom Invisalign treatment will depend in large part on your unique teeth and smile goals. However, generally speaking, Invisalign treatment is typically able to straighten a person's smile in just 12 to 18 months. This is significantly shorter than traditional metal braces, which must often be worn for up to two years or more!
You can help ensure the speediness of your own Invisalign treatment plan by wearing your aligners as directed by your dentist – typically 20 to 22 hours a day – and practicing excellent oral hygiene at home.
How Do I Clean My Invisalign Aligners?
Preventing plaque and bacteria from building up on your Invisalign aligners is important to both protect your teeth and complete your treatment on schedule. When cleaning your aligners, be sure to:
Use a soft-bristled toothbrush and non-abrasive toothpaste
Hold the aligners in your hand and brush gently but thoroughly
Rinse the aligners in lukewarm – never hot – water.