Invisalign® - New Lenox
Enjoy Straighter Teeth Without Metal Braces
At Atrium Family Dental, Dr. Albert, Dr. Snow, and Dr. Stylski all understand the importance of maintaining a polished appearance in the professional world. Many older patients dream of achieving a straighter smile that's free of noticeable crookedness and gaps, but they can't commit to wearing noticeable metal braces for months or years on end. Thankfully, there's an alternative here in New Lenox, IL: Invisalign Clear Braces! Like the name implies, this treatment is nicely subtle and image-friendly. If you're interested in learning whether or not it's right for your unique smile, schedule a consultation today.
Why Choose Us for Invisalign?
Certified Invisalign Provider
Cosmetically Friendly Orthodontics – No "Mouthful of Metal"
Customized, Comprehensive Smile Makeover Plans
How Does Invisalign Treatment Work?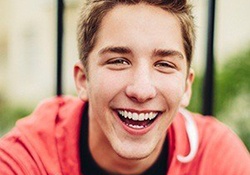 Invisalign doesn't use brackets or wires to gradually straighten teeth – instead, this modern system relies on a series of customized, clear aligners. Each aligner will represent a different stage of the patient's teeth as they're guided towards the proper places, and they'll be worn for around two weeks at a time. The clear plastic nature of the aligners is also highly comfortable in the mouth and likely won't even be noticed by most people you pass in a day unless they look closely.
Patients who commit to Invisalign treatment will need to visit our dentists at Atrium Family Dental every six weeks on average so that we can check their progress. We will also provide the next set of aligners during this time. This service is best suited to smiles with mild to moderate orthodontic issues, such as the following:
Overcrowding
Gaps between teeth
Crooked teeth
Misaligned bite
If the problems are too severe, traditional braces may be recommended instead.
What are the Benefits of Invisalign Clear Aligners?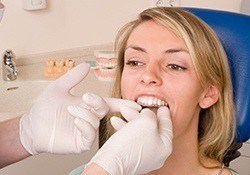 If your top priority is to maintain a natural appearance throughout orthodontic treatment, look no further than Invisalign. The aligners are extremely discreet to the point that patients may forget they're wearing them in the first place.
Invisalign aligners can be removed from the mouth at any time, although patients will need to plan to wear them for at least 22 hours each day to maximize the success of their treatment plan. You will be able to eat all of your favorite foods and even chew gum, as well as brush and floss at home without having to navigate tricky wires and brackets. If you'd like to look your very best for a photo or a special event, it's even fine to take out the aligner as long as you remember to put it back in before too much time has passed.
Orthodontic wires and brackets may poke or irritate the gum tissue over time. Thankfully, Invisalign aligners are crafted from a smooth, high-quality plastic that feels very comfortable when worn.
While every patient's needs are different, most people can expect to complete Invisalign treatment in 12-18 months. This is a significant improvement over traditional braces, which often have to be worn upwards of two years.
Learn About the Benefits of Invisalign
Invisalign for Teens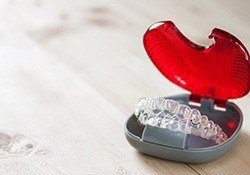 Invisalign Teen is very similar to traditional Invisalign treatment, but it does have a few distinct tweaks that are better suited to younger patients. Your son or daughter will have access to a greater number of replacement aligners if their current one is badly damaged or lost, and the aligners themselves contain a blue dot that will change to clear or white over time to show that it's being worn correctly. This also helps teenagers remember when it's time to switch to the next one in the set!