Dental Checkups & Cleanings – New Lenox, IL
The First Stop for Preventive Care
When it comes to regular dental checkups and cleanings, do you understand why they're so important? As the first stop for preventive care, these regular appointments are crucial to ensuring your teeth, gums, and overall oral cavity stays healthy. At Atrium Family Dental of New Lenox, we place a high value on preventive care, especially since so many problems can be caught, addressed, and even stopped during this stage. Make your oral health a priority and let a dentist in New Lenox perform a dental checkup and cleaning. Contact our office to schedule an appointment today.
What Happens During a Dental Checkup?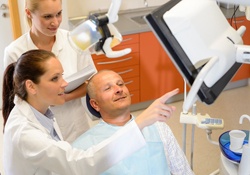 When seeing one of our dentists during your visit, you can expect their well-trained eyes to quickly spot various things you would never see. While some dentists take only minutes to thoroughly check a patient's smile, we will take the time to carefully examine your teeth, gums, jaw, neck, and throat to make sure there are no causes for concern.
During a typical dental checkup, a dentist in New Lenox will not only check to make sure there are no signs of tooth decay or gum disease, but they will also review your X-rays and look for any areas or problems that could be associated with oral cancer.
An oral cancer screening is part of your regular dental checkup. Early detection is vital because of the difficulty in being able to treat oral cancer in its later stages. In 2019, the American Cancer Society estimated more than 53,000 people will be diagnosed with oral cancer, and only half of that number will live to see the next five years. Your dentist is your biggest ally in detecting this disease, so if having your mouth checked for decay and gum disease isn't enough to make you schedule an appointment, having an oral cancer screening should.
What Happens During a Dental Cleaning?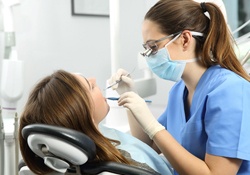 After a thorough dental cleaning, our patients leave our office with beaming smiles. Not only do they feel better about the health of their teeth and gums, but they look better because of their beautiful, white and shiny smiles.
Our highly skilled dental hygienists will begin by charting your gum pockets. By reviewing your gum recession, they can either start a baseline or continue to monitor your gum health. This helps them to determine if you are in need of gum disease therapy.
Once they're finished charting, they will begin removing any plaque and tartar buildup from above and below the gum line before finishing the appointment with a nice polish to your tooth enamel. This is what gives your teeth that shiny, silky feeling.
Why Attending These Appointments Regularly Are Important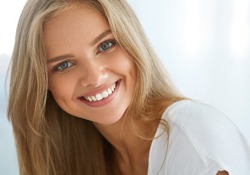 Keeping your regularly scheduled dental appointments are important for many reasons:
Prevents gum disease from developing or progressing
Prevents tooth decay or cavities from forming
Gives us the opportunity to get ahead of any problems before they arise
Offers you peace of mind knowing your oral and overall health are in great shape
Allows our dentists to address any concerns as it pertains to oral cancer, tooth decay, gum disease, or any other oral-related health problems