Bruxism – New Lenox, IL
Keep Your Teeth Safe While You Sleep
Protecting your pearly whites is a full-time job, and it doesn't end when you settle down for the night. Bruxism is a common condition that, if it's not caught in time, will wear your teeth down over time while you sleep. To prevent this, Atrium Family Dental of New Lenox is proud to offer oral appliance therapy as a solution. If you've been waking up with jaw pain or notice that your teeth seem flatter than they used to be, schedule an appointment with us today!
What is Bruxism?
Bruxism is another word for unconscious grinding, gnashing or clenching of the teeth. This can happen while you're awake, of course, but it's especially a problem when it happens during sleep, when you can't stop yourself. In many cases, bruxism is a side effect of another disorder such as snoring or sleep apnea.
Signs of Bruxism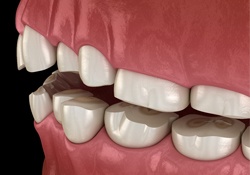 It's not completely clear what causes bruxism, but uncontrolled anxiety or stress, age, having an aggressive personality, and certain medications all seem to be risk factors. Call our office as soon as possible if you experience any of the following symptoms:
Loud grinding or clenching that can wake you or a partner up
Flattened, fractured, chipped or loose teeth
Worn enamel that's making the inner layers of the tooth visible
Tooth pain and sensitivity
Pain in the jaw, neck or face
Earaches
A dull headache in the temples
Cheeks that have been damaged by being chewed on
Interrupted sleep
Oral Appliance Therapy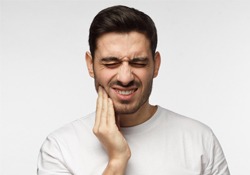 To keep your smile safe, we can give you a custom-made oral appliance to wear when you go to bed. The appliance will prevent your teeth from grinding directly against each other, meaning the enamel won't erode over time. It also provides extra support for the jaw muscles, granting relief from related pain. In some cases, an appliance can even realign your bite so that the grinding happens much less frequently.
While oral appliance therapy is typically used for sleep bruxism, patients who experience involuntary clenching and grinding while awake can get thin guards to wear during the day. Also, patients whose bruxism is a result of sleep apnea might receive a different kind of appliance designed to keep the airway open while they're asleep.
Additional Treatment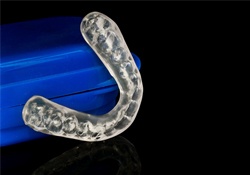 Depending on the underlying cause, an oral appliance might be used alongside other kinds of therapy. For example, if bruxism is a result of stress, meditation and other methods of relaxation could help reduce your symptoms. You might also practice holding your jaw in the proper position. Medications aren't usually effective for this particular disorder, but on occasion, muscle relaxants can help.