Dental Services Near Mokena, IL
Comprehensive and Affordable Care for You and Your Family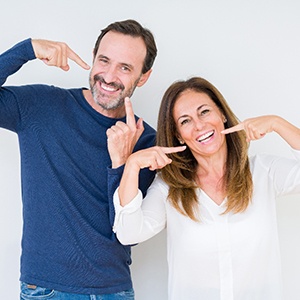 When it comes to finding the right dentist near Mokena, IL, you want someone who offers a wide array of dental services designed to meet the needs of you and your family. Whether it is a dental checkup and cleaning, dental implants, cosmetic services, or a way to straighten a crooked smile, you want someone you know and trust to take care of all these issues. At Atrium Family Dental, we are proud to provide the highest level of quality dental care in Mokena and its surrounding cities.
Some of the available services we offer include:
Dental Checkups & Cleanings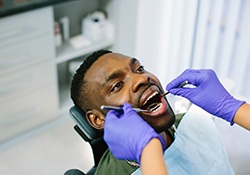 When it comes to maintaining good oral health, our team can help by providing regular dental checkups and cleanings. These twice-yearly visits allow us to examine your teeth, gums, bite, and other oral and facial structures to ensure there are no problems developing. We will also perform a thorough teeth cleaning, removing any plaque and tartar accumulations to help lower your risk of gum disease and tooth decay. At Atrium Family Dental, you can always count on us to use a compassionate and gentle approach when it comes to these regular cleanings.
Cosmetic Dentistry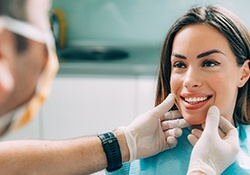 Tired of the stains, chips, cracks that keep you from taking family photos or engaging in conversation with others? If you're ready to transform your smile, let a dentist near Mokena use of the many available cosmetic dentistry services. No matter if you choose porcelain veneers, teeth whitening, metal-free restorations, or dental bonding, we can enhance your smile by hiding, removing, and blasting away imperfections. Have multiple issues you would like to address? Not to worry! Our team can combine treatments to give you a complete smile makeover!
Invisalign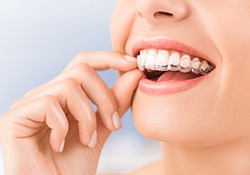 If you are looking for a more subtle and flexible way to straighten your smile, there's no better solution than Invisalign. These clear, plastic aligners allow you to go about your day without compromising your appearance. Using customized trays that help move your teeth in the right direction, you will see a dramatic difference in your smile in as little as 12-18 months. Not to mention, no one will ever know you're wearing them because they're virtually invisible!
Dental Implants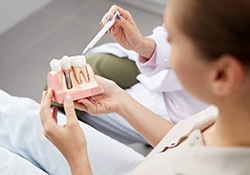 Missing teeth can wreak havoc on your oral health. Not only can one or more missing teeth cause embarrassment and low self-esteem, but you can also be faced with additional bone and tooth loss. To avoid these common problems, your dentist near Mokena can employ dental implants, which are titanium posts that mimic the natural tooth structure and stimulate the jawbone. Considered to be the most superior form of tooth replacement, dental implants can improve your oral health while restoring your smile in its entirety.
Emergency Dentistry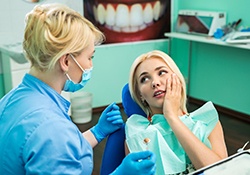 Dental injuries can occur at any time. Whether through the week or on the weekend, you need someone you can trust to provide immediate care. This is why we are proud to offer same-day appointments for individuals suffering from dental emergencies. Toothaches, soft tissue injuries, a knocked-out tooth – these and other serious problems can be quickly addressed in our dental office near Mokena, allowing you to receive necessary treatment and resume normal activity as soon as possible.