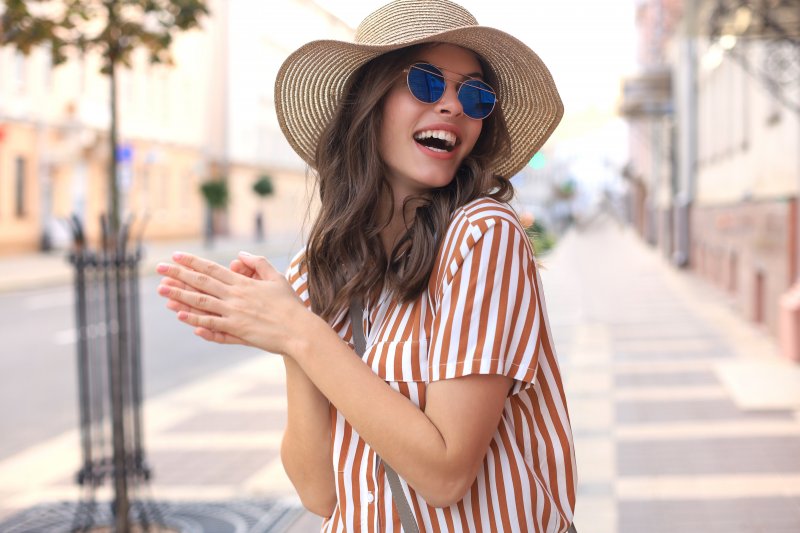 Many people want to make sure their smiles look their best during the summer, whether it's to get ready for vacation photos that will be shared on social media or to make a great first impression on anyone they might meet at special events or gatherings. When it comes to enhancing your grin, your cosmetic dentist in New Lenox has plenty of options to consider. Here are just 3 examples of treatments that can leave your teeth looking brighter and better than ever.
1. Veneers
Are you thinking of giving yourself a full smile makeover but are worried that summer will be over by the time you're done? Thanks to veneers, you can completely transform your grin in just two appointments. A veneer is a thin sheath of porcelain that is attached to the front side of a natural tooth. It's used to cover up stains, gaps, chips, and various other cosmetic imperfections.
The big advantage of veneers is that they can be used to improve any number of teeth. You can get a single veneer to correct one tooth, or you can get a whole set to cover all of your visible teeth. This makes veneers an ideal choice for anyone who has so many cosmetic concerns that they aren't sure where to start.
2. Teeth Whitening
Everyone wants their smile to look as white as possible when they have their picture taken. Luckily, getting rid of stains and discoloration on your teeth is often easier than you might think – as long as it's done by a professional.
Dentists offer two types of teeth whitening: the kind that's performed in-office and the kind that involves a kit that you take home. In-office whitening can get you results after just an hour, making it a great choice if there's an event coming up that you want to get your smile ready for. On the other hand, if you don't mind waiting a couple of weeks for results, take-home whitening lets you complete the process yourself in the comfort of your own home.
3. Dental Bonding
Even a small imperfection, such as a small chip on a single tooth, can leave you feeling less than confident in your smile. With dental bonding, your dentist can correct minor cosmetic flaws very quickly by applying a small amount of composite resin to the tooth. Even the smallest changes can make a big difference for your smile, helping you look your best for the rest of the summer.
Every smile is unique, which means different patients will benefit from different cosmetic treatments. If you want to enjoy your summer with a smile you can be proud of, schedule an appointment with your dentist right away; they can help you figure out what treatments are needed to get the dazzling grin you want for yourself.
About the Practice
At Atrium Family Dental, three skilled dentists combine their skills and collective experience to help make your dream smile a reality. We offer a variety of cosmetic services – including veneers, teeth whitening, and dental bonding – that allow our patients to achieve their dream smiles. If you're interested in scheduling a cosmetic consultation at our New Lenox office, visit our website or call (708) 390-3239.