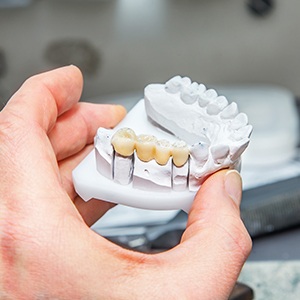 So you had to have one or more of your teeth pulled, the question now is "what is the next step?" You can have a gap in your mouth, or you can restore your smile. You won't find a dentist who will tell you to just live with the gap in your mouth. There are many problems with this. At Atrium Family Dental, we care about our patients and advise them to do what is best for their health while also working with their budget. Keep reading to find out why our New Lenox dentist advises patients to find a restorative dentistry treatment to resolve their missing teeth.

Why You Should Replace Your Missing Tooth/Teeth
You are probably wondering why you should even bother spending the time and money replacing your missing teeth. Maybe it's unnoticeable and in the back of your mouth. There are many problems that can arise when you don't replace your missing teeth. First off, any adjacent teeth next to the gap will begin to fill the empty spot. This can result in turned teeth and can make your bite uneven and unaligned. A misaligned bite can cause lots of problems including uneven wear of your teeth, periodontal and gum problems, damage to your teeth and more. When you don't replace your missing tooth, it can also result in bone mass loss in your jaw. This can cause your face to begin to sag in an area and overall make you look older. It's best to find the right solution for replacing your missing tooth.
Dental Bridges for Missing Teeth
Most patients who are on a budget prefer to go with dental bridges in New Lenox to replace their missing teeth. Dental bridges are the more cost-effective treatment and they look completely natural to restore your smile. They are also an easier treatment to perform. Dental bridges work by creating a bridge between two teeth to seal the gap of missing teeth. Your dentist will have a dental bridge created to match your surrounding teeth perfectly in order to create a completely natural looking smile. The only problem with dental bridges is that they are not a long-term solution. The dental bridge will eventually need to be replaced. Another downfall of dental bridges is that you will lose bone mass in your jaw where the missing teeth are since there is no tooth root being replaced.
Dental bridges have many pros and cons when it comes to replacing missing teeth. One of the pros is that dental bridges cost significantly less than dental implants. In addition, dental bridges look completely natural and work like real teeth. However, there are also cons that come with choosing dental bridges in New Lenox.
One of the cons includes a shorter lifespan than other restorative treatments. Since the dental bridge is connected to two teeth, if there is a problem with one of the teeth, the entire bridge will need to be worked on. If you are prone to dental problems, a dental bridge might now be the best solution. Another con of dental bridges is that flossing becomes more difficult. If you have ever had braces, the flossing is similar. You will need to use special threading floss to floss effectively. If you want to spend less on restorative dentistry but have a treatment that doesn't last as long, dental bridges in New Lenox is the ideal solution for you.
Dental Implants for Missing Teeth
If cost isn't a problem and you want the best treatment option possible, talk to your New Lenox dentist about dental implants. Dental implants are the closest solution to natural teeth you can find for replacing your teeth. The procedure for dental implants is a bit different than dental bridges. First, your dentist will need to evaluate if you have enough bone mass in your jaw to secure the dental implant, which is a titanium post or screw that is surgically inserted into your jawbone to act as a tooth root. If you do not have enough bone mass, your dentist may need to perform a bone graft.
After concluding that there is enough bone mass, the dental implant screw is surgically inserted. From there, your dentist can attach a dental crown for a single tooth replacement, a dental bridge, or even replace an entire jaw of teeth with all-on-four dentures. The options are endless with dental implants.
One of the top reasons a patient chooses to go for dental implants versus a dental bridge or even a partial denture is for the permanent secureness of their restoration. Many patients feel as though their dentures or restoration will fall out without the security of dental implants. Another benefit of dental implants is that it helps patients maintain the bone mass in their jaw, resulting in a maintained youthful appearance. In addition, dental implants can last you for the rest of your life. If you choose to use a dental crown with a dental implant, you can expect that restoration to last you forever. This might even save you money in the long run, and give you a peace of mind.
There are only two cons when it comes to dental implant treatment at Atrium Family Dental. The first con of dental implants is the cost. Unfortunately, the cost can't be avoided, but if you consider the many benefits that come with the treatment, it might outweigh it. The second con is that not all patients are candidates for them since it requires a certain amount of bone mass to be done.
Need to Replace a Missing Tooth?
Whether you have lost one tooth or several, our New Lenox dentists can help you restore your smile so you can chew and smile normally again. After reading this blog, you may have decided if dental implants or dental bridges are the right restorative option for you. Contact Atrium Family Dental today to schedule an appointment with our restorative dentist to find out more.