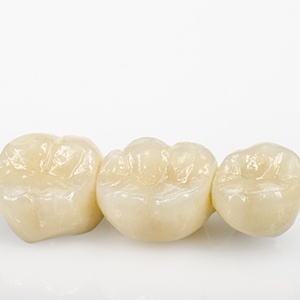 A dental bridge is a sort of small denture appliance that uses the teeth surrounding an area where one or more teeth were lost to support the false teeth. There are many types of dental bridges, and they can be a good solution for New Lenox dental patients who need a faster, more affordable method for replacing just a few teeth. Here's what you need to know about dental bridges aftercare:

Dental Bridges Do Require Tooth Prep
The teeth that surround your dental bridge will likely have to have some enamel removed to support the structure of the bridge correctly, so be aware that this procedure will permanently change your smile a bit. The surrounding teeth will now always need that bridge or another to keep them from being susceptible to decay.
Maintaining Your Dental Bridge
Dental bridges aftercare is relatively easy after the procedure is finished. You simply treat your dental bridge like a permanent tooth, brushing and flossing just as you would your normal tooth. It is very important that good oral hygiene be maintained, because an unclean bridge can lead to gum infections and disease. It is also important that you continue to visit your dentist in New Lenox for regular cleanings and checkups to ensure the dental bridge is in good shape.
How Long Will a Dental Bridge Last?
With the proper care and oral hygiene, a dental bridge can last many years, even up to 15 or more. Dental bridges may last longer depending on your oral health and other factors.
Learn More from Your Dentist in New Lenox
Dental bridge aftercare is the easy part, but the procedure itself is neither difficult nor painful. To learn more about how dental bridges can help save your smile, contact Atrium Family Dental at our New Lenox office for a consultation. We can be reached via phone at 815-462-3330, or online.