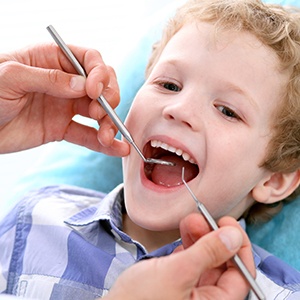 Just because you love your dentist does not mean that they are trained to address children's dentistry. In fact, the importance of children's dentistry from a trained pediatric dentist in New Lenox cannot be exaggerated when it comes to the health of your child. Here's why:

Early Habits and Health Affect Smiles Forever
The goal of children's dentistry is to help lay the foundation for healthy smiles into adulthood. When children are treated by a dentist who knows how to spot problems, and how to treat potential issues while considering that the patient's mouth and jaw are still developing, they are able to achieve a lovely, lasting smile. More importantly, their overall body health is also protected through great dental care.
Oral Health in Children
know that oral health concerns like cavities and misaligned bite are incredibly high in children, or that these issues often go untreated? These are preventable health issues that could have been addressed with a visit to your dentist for some preventative dentistry measures early on.
When Should Children's Dentistry Begin?
If your child has gums, it is not too early to take them to a dentist. It is more common to hear that your child should begin having children's dentistry care when their first teeth begin to show, but truthfully, even a newborn could benefit from an early visit to the pediatric dentist in New Lenox. The dentist can help you understand how to ease the pain of teething and can begin watching for any preventable issues.
Learn More from Your Children's Dentist in New Lenox
Is your child ready for their first visit to the dentist in New Lenox? We offer a relaxing atmosphere that is suited for helping young children feel at ease. Contact us at Atrium Family Dental to learn more online, or call 815-462-9990.