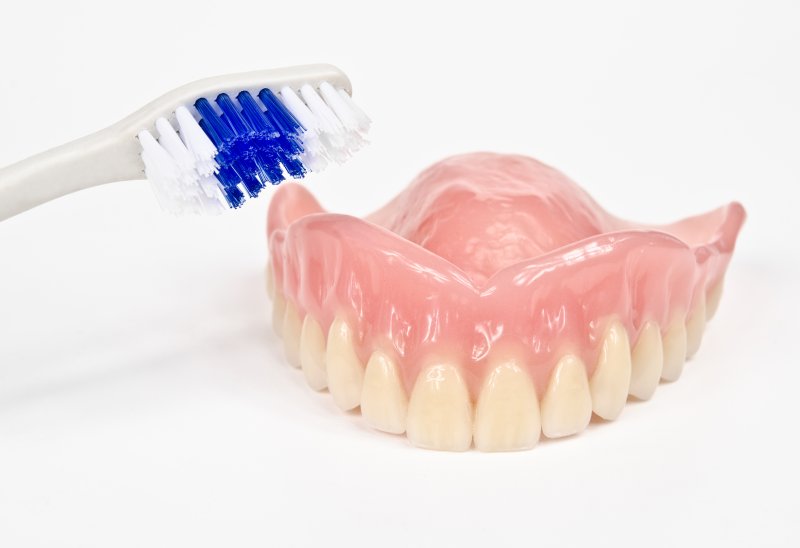 Now that you have dentures, you'll be able to enjoy your full smile again! While they do support your jaw and any remaining teeth, it's important to preserve them with proper dental hygiene. But is it possible to brush your restorations while they're in your mouth? Read on to learn the facts about cleaning dentures properly.
Can I Brush My Dentures While I Have Them On?
In short, you can brush your dentures while wearing them. However, you'll need to give a thorough cleaning to every surface of your restorations, including the undersides. Since they are fitted on your gum line, ensuring they are clear of debris and plaque-building bacteria can help prevent infection or periodontal disease. You'll also have to soak your dentures overnight to keep them germ-free. For this reason, it's best if you remove them from your mouth before starting your cleaning process.
Tips for Cleaning Dentures Properly
Maintaining strong and healthy dentures is essential for preserving your restored smile. Here are several key points when cleaning them properly:
Brush with soft-bristled toothbrushes to avoid damaging the surface of your dentures
Use regular toothpaste or those that your dentist recommends, as certain brands can impact or ruin the structure of your restorations.
Be sure to clean your dentures while leaning over a soft towel or sink half-filled with water. This way you can protect them from breaking in case you drop them.
Soak them in a dilution of one-part vinegar to four-parts water if they have a buildup of plaque and tartar.
Brush your tongue, gums, and the roof of your mouth twice a day to ensure a clean environment for your replacement teeth.
Take your dentures off before sleeping and place them in a cup of water or denture solution to maintain their moisture.
Removing your dentures first will allow you to clean them more thoroughly overall! And if you ever have questions or experience any discomfort while wearing them, be sure to contact your dentist for help.
About the Author
Dr. Christine Snow is a proud member of several prestigious organizations such as the American Dental Association, the Chicago Dental Society, and the Illinois State Dental Society. She earned her dental doctorate from the University of Kentucky College of Dentistry and continues to seek advanced training to provide her patients the dental care they deserve. She offers multiple comprehensive and modern treatments, including dentures. If you'd like to know more about the best practices for cleaning dentures, feel free to visit our website or call us at 815-462-9990.