Single Tooth Dental Implants – New Lenox, IL
Seamless Tooth Replacement for Healthy Smiles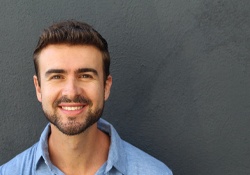 Do you have a single missing tooth? While you may be familiar with its aesthetic disadvantages, even just one missing tooth can have serious health ramifications. Unlike other medical conditions that get better with time, dental problems will only grow worse with prolonged treatment. A single missing tooth can cause misalignment, jawbone deterioration, more wear and tear on remaining dental structure, and even additional tooth loss. Thankfully, dental implants in New Lenox can be used to replace your tooth from the roots up for a strong and healthy smile.
Why Choose Us for Single Tooth Dental Implants?
Experienced Team of Dentists
Quality & Custom Dental Restorations
Implant Surgery & Restoration Under One Roof
Single Tooth Replacement Options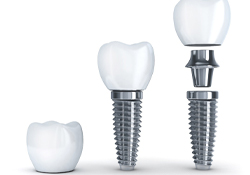 There are two options for replacing a single tooth: a fixed bridge or a dental implant.
Fixed Bridge
A fixed dental bridge, sometimes called a crown and bridge, restores the visible portion of your teeth with a prosthetic that is permanently attached to the teeth on either side. This replacement literally "bridges" the gap in your smile, and it is connected to one crown on each side for support and stability. While this option doesn't restore your tooth's roots, it will prevent dental drift and restore your appearance and function.
Single Tooth Implant
A complete and comprehensive replacement, single tooth implants restore your tooth roots in addition to the crown for a healthy and stable replacement. A dental implant is a post that is made of titanium, which acts as an artificial tooth root. Titanium is a biocompatible material, which allows your implant to integrate into your jawbone for a permanent and strong support. This process takes three to four months, but it's precisely why dental implants can last for a lifetime with proper care. Once your implant has completely fused to your jawbone, you'll come back into our office, where we will finalize and place your dental crown.
The Benefits of Implant-Supported Single Tooth Replacement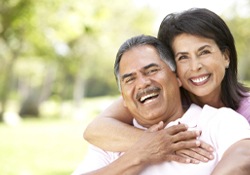 Replacing your tooth with either option is better than nothing at all, but a dental implant can provide you with benefits that you simply can't get anywhere else, including:
Health: Dental implants are the only replacement that stimulates your jawbone to prevent it from deteriorating after tooth loss.
Strength: Rooted in your jawbone, dental implants provide maximum biting power, allowing you to eat a varying diet with all of your favorite foods.
Longevity: Unlike any other replacement, dental implants can last a lifetime with proper care.
Comfort: Dental implants are more comfortable than any other replacement because they look and feel just like your natural teeth, which means they won't slip or slide around when you're trying to talk or chew.
Contact Atrium Family Dental Today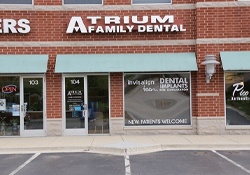 Are you ready to replace your missing tooth? Don't wait around for the problems that missing teeth can cause, call our office today to set up an appointment. Our dentist in New Lenox is ready to help complete your smile with a single tooth dental implant for a better quality of life.