Missing Multiple Teeth – New Lenox, IL
Creating Complete, Permanent, and Lasting Smiles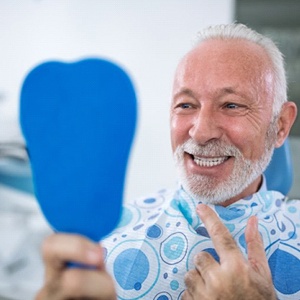 One missing tooth is bad enough, but when you are missing multiple teeth in New Lenox, it can take a serious toll on your self-esteem and overall oral health. Fortunately, you don't have to reside yourself to the possibility of living with an incomplete smile. With dental implants placed by Atrium Family Dental, we can create complete, permanent, and lasting smiles. Using titanium implants, these will mimic your natural tooth root, replacing the entire tooth structure. Your custom-made restoration will blend in beautifully with your smile, giving you the confidence you need to feel great about the way you look. To learn more about this unique and transformative solution, contact us to schedule an appointment.
Non-Implant Tooth Replacement Options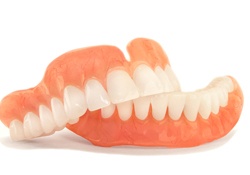 There are non-invasive treatment options available for individuals who would prefer to avoid surgery, such as:
Dental Crowns and Bridges – By fusing three or more dental crowns together, your natural teeth that exist on either side of the gaps will serve as the anchors to hold your custom-made dental bridge in place. After your regular teeth are filed down to make room for the crowns, we will place the bridge so that the teeth on the interior of the prosthetic sit comfortably on top of your gums, replicating the look of a complete smile.
Partial Dentures – If you have multiple missing teeth that are scattered along an arch, we can incorporate a partial denture to restore your smile. Using an acrylic gum-colored base, artificial teeth will be attached to the base in areas where your teeth are missing. Once ready, we will use clasps or clips to attach to your natural teeth to hold the partial in place.
Full Dentures – If you are missing all your teeth and want a more affordable solution, full dentures might just be the right option for you. Using the same technique as a partial denture, minus the clasps or clips, your denture will be created to sit on top of your gums. Your natural suction will hold it in place even though some people prefer to use a dental adhesive for extra security.
The Dental Implant Process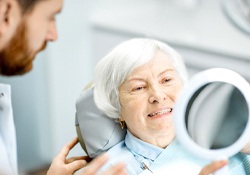 Before you can move forward with dental implants in New Lenox, your dentist will need to evaluate your bone strength and overall oral health. After surveying whether your jawbone is strong enough to hold an implant and custom restoration, you will either get the green light for surgery or undergo a bone graft to place additional bone minerals to your weakened jawbone.
Once you're ready to have your implants placed, Dr. Albert, Dr. Snow, or Dr. Stylski will make small incisions in your gums to expose the jawbone. Carefully placing the implants into the bone, they will position them before closing up the area and sending you home to heal and recover. It can take several months for the implants to fuse to the bone and surrounding tissue, and you might be required to avoid certain foods during this phase, as it can harm the recovery process.
After dental lab technicians complete your custom restoration (i.e. implant bridge), you will return to have it put into place. Using abutments, which are small metal appliances that connect the implant to the restoration, we will situate the bridge on top of the implants. What you will see is a fully restored smile from the roots up.
Benefits of Implant-Retained Dental Prosthetics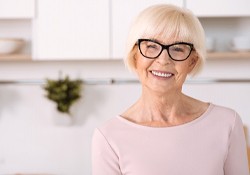 Improved stability and functionality when eating, chewing, and speaking
An aesthetically pleasing smile that increases your confidence
No chance for decay
Prevents changes in your facial shape and appearance
A longer-lasting restoration that lasts decades or even a lifetime