Invisalign Frequently Asked Questions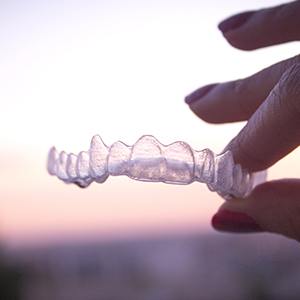 At Atrium Family Dental, we're always happy to help when patients have questions or concerns about the services we offer, and Invisalign® Clear Braces are no exception. For convenience's sake, we've compiled some of the most popular FAQs and their answers below. Don't hesitate to contact us in New Lenox if you'd prefer to speak to a team member directly or cannot find the information you need on this page.
What is Invisalign®?
Invisalign® technology utilizes a series of removable, clear, and comfortable set of aligners that no one will be able to tell you are wearing. Made with a state-of-the-art 3D computer imaging technology, Invisalign® is an effective and easier solution than traditional orthodontic treatment.
Why Would I Need Invisalign®?
For adults, teens, and everyone in between who have always wanted straighter teeth, Invisalign® is the perfect solution. Not only are the aligners invisible, but they're completely removable too, allowing you to eat and drink whatever you want. The aligners are also extremely comfortable, with no metal that causes uncomfortable mouth abrasions and less time needed in the dentist's chair for adjustments.
How does Invisalign® Work?
The process is incredibly efficient and simple. After your initial consultation and fitting, you will be given a set of aligners to wear for two weeks each, removing them only to drink, eat, floss, and brush. As you move along in the series of aligners, your teeth will begin to shift slowly until they reach the final, desired position.
You will be asked to visit the team at Atrium Family Dental once every two months in order to ensure that your treatment is working as planned. Invisalign® typically takes an average of nine to fifteen months, but this will vary for each patient.